The KwaZulu-Natal (KZN) provincial government has handed over more than 400 housing units to previously disadvantaged households from Sithembile Township in Glencoe north of KZN.
The R35 million housing project was handed over by KZN Premier Senzo Mchunu and MEC for Human Settlements and Public Works Ravigasen Pillay recently. 
The 478 units together with title deeds form part of government's Comprehensive Rural Development Programme that aims to tackle issues such as under development, food security, unemployment, poverty and other social ills.
One of the Sithembile Township project beneficiary Michelle Goosen told Vukuzenzele  that her dream has finally come true. 
"I always dreamed of owning a decent house one day. It has been 10 years staying here in the shack. On the rainy days I used to sleep on the water. My grandson when it is raining he would ask me, granny when are we moving out of this shack? I thank the department for such a decent house. Even if I can die today I can rest well knowing that I left my family in a better place," said Goosen who was so overcome by emotion.
This project didn't bring houses alone for the people of Sithembile Township but it also created more than 190 jobs for people that were working on project.
Speaking at the handover ceremony MEC Pillay said the handover of the project coincided with the national Department of Human Settlement celebrating the building of 4,3 million houses since 1994.
"In 2014, we also pledged to build an additional 1,5 million houses nationally by 2019 and as KwaZulu-Natal we have already put our shoulder on the delivery wheel to ensure that we realise the target set by Human Settlements Minister Lindiwe Sisulu.
"In this financial year in uMzinyathi district alone, we shall be spending in excess of R136 million during this financial year. Just across town at Sibongile Township in UMzinyathi district, we are building 720 houses as part of R51 million Sibongile Bufferstrip Housing project.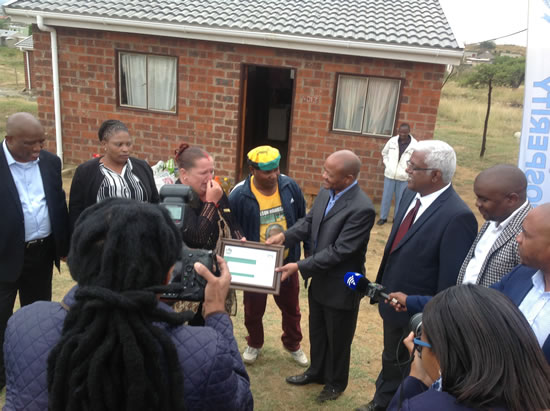 "More than 309 houses have been completed. In addition to that we have slum clearance project called Dlamini,Forestdale Housing Project in Ward 4 and 5.There are also a number of projects in pipeline within Umzinyathi District Municipality," said MEC Pillay.
Premier Mchunu said the title-deeds beneficiaries are in the main, residents who have been renting government housing stock that was built before 1994.
"The handing over of title-deeds forms part of the government aggressive objective of eradicating the huge backlog in affirming security of tenure to many eligible beneficiaries in the province. Together we are really moving South Africa forward," he said.
The Endumeni local Municipality Mayor Thulani Mahaye said people of Endumeni have seen the development.
"This is government development at its best. We have been writing to the provincial government asking for houses and government answered. All deserving people will definitely get houses. This is phase one of the project phase two is on the pipeline," he said.