Written by Amukelani Chauke
Sport, arts, culture
Sport and Recreation Minister Fikile Mbalula says there is no turning back on transformation following his announcement to impose penalties on sports federations that have failed to meet transformation targets.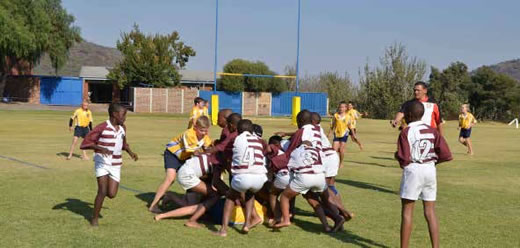 The Minister said this when he briefed the media after tabling the department's Budget Vote in Parliament recently.
On 25 April, Minister Mbalula released the Eminent Persons Group report on Transformation in Sport in South Africa, and also announced the Transformation Barometer.
"For us there is no turning back on transformation and [we are] forging ahead with the penalties imposed on rugby, athletics, cricket and netball based on their failure to meet their own set targets.
"I have signed memoranda of agreements with each of the aforementioned federations and I expect them to act on their commitments," he said.
The Minister said he would be signing memoranda of agreements with the 14 federations that were part of the 2015/16 transformation audit report.
He expects federations to also set their own targets against which the department will measure their performance on an annual basis.
Minister sets target for Rio Olympics
The Minister said, meanwhile, that the South African Sports Confederation and Olympic Committee (SASCOC) would prepare Team South Africa, in partnership with national federations, to participate in the 2016 Rio Olympic and Paralympic games which will start in August.
He said SASCOC would receive its allocation of R8 million, as well as an additional allocation for advanced preparation for targeted athletes who have good medal potential in Brazil.
Minister Mbalula said the additional allocation would also be based on the assessments of the training and preparatory needs over and above the support provided through the various sporting federations for final preparations.
"As government, we are mobilising society and resources to ensure that our athletes fly the South African flag high and collect medals that will put smiles on the faces of this sport-loving nation.
"In this regard, we have set a target of eight medals for SASCOC in the 2016 edition of the Olympic Games, up from the medal tally achieved in London," he said.
New programmes to bolster sports development
The Minister said in the year ahead, the department would introduce a programme called Sports Buzz.
The programme will see 12-retro fitted
kombis being dispatched to all provinces with the intention of promoting sport, active and healthy lifestyles.
"I, together with traditional leaders of our country, launched the Rural Sport Development Programme in Umtata in the Eastern Cape.
"This programme will be a link and feeder to our structured Sport Development Programme in rural areas and farming communities of our country.
"We are building a solid pipeline by growing and nurturing athletes who demonstrate potential and talent in the deep rural areas. We are doing for ourselves. Siyaqhuba!"
Participating in the department's Budget Vote debate in Parliament, Deputy Sport and Recreation Minister Gert Oosthuizen said government would continue to create opportunities that will contribute towards uniting people across race, class or gender
The Deputy Minister said unification would be pursued through existing social cohesion campaigns such as UNITE.
He said this would be done in partnership with the Department of Arts and Culture and other social partners.
"In our view, the Nelson Mandela Sports and Culture Day contributes towards a meaningful non-racial cohesion programme, rallying all South Africans," he said.
In the coming year, the department was committed to delivering several programmes, namely: 
To have 1.3 million people actively participating in organised sport and active recreation events, thereby sharing common spaces;
Implementing five Sport and Recreation promotion campaigns and events;
Providing 2 500 schools, hubs and clubs with equipment and/or attire to assist with transformation;
Sixty Sport and Recreation bodies receiving financial and non-financial support in an effort to assist them in meeting their transformation targets;
Having 7 500 participants in the National School Sport Championships;
To have 3 400 athletes supported by the Sports Academies;
To have 80 athletes supported through the Scientific Support Programme.
Through these actions, the department is promoting full and equal access to quality sport and recreation for all citizens.