The Middledrift Community Health Centre (CHC) in the Eastern Cape has received a R3 million upgrade, donated by the Aids Health Foundation (AHF).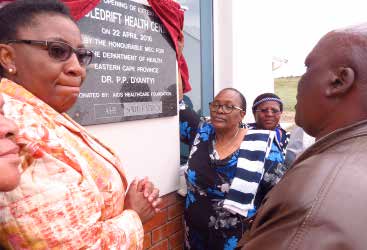 The Middledrift CHC is a 24-hour facility that provides integrated comprehensive primary healthcare services and serves as a referral point to 10 other facilities within the Middledrift cluster. The clinic services 21 villages with a population of about 20 601.
Middledrift is a small town located 90 kilometres north-west of East London.
MEC for the Eastern Cape Department of Health Dr Pumza Dyantyi could not contain her excitement over the new facility.
"This is what government is about, taking services to the people," she said.
The Middledrift CHC now has a new building with four consulting rooms to increase patient privacy, an office, dispensary, X-ray facility and a playground for children.
When the centre was accredited in 2007 to be an ARV site, there was an increase in the number of patients visiting the centre for treatment. This resulted in space being inadequate to accommodate the influx of patients.
Country Programme Director for South Africa Hilary Thulare explained that when the AHF moved to the Eastern Cape in 2007 to roll-out ARVs the organisation saw first-hand the overcrowding at Middledrift CHC.
"Faced with this reality, a motivation for the extension was made and approved," said Thulare. 
Thulare added that AHF is assisting in Nkonkobe, Mbashe and Mnquma to strengthen the Ideal Clinic's realisation.
The Ideal Clinic Initiative is a programme that is laying the foundation for the National Health Insurance.
It's also part of the second implementation of Operation Phakisa, which will be to pilot the health sector's Ideal Clinic Initiative to improve service delivery in the country's clinics nationwide.
Operation Phakisa was organised into eight work streams focusing on the different building blocks of an Ideal Clinic capable of delivering good quality health services.
The work streams include service delivery, waiting times, human resources, infrastructure, financial management, supply chain management, scaling up and sustainability and institutional arrangements.
Thulare also committed that the AHF would remain in the province and continue its support for the Department of Health.
MEC Dyantyi thanked the AHF for assisting the provincial health department to bring quality services to the people.
She urged the feeder clinics to play their mandated roles to ensure the CHC is not overburdened and pleaded with the community to protect the building and all other government buildings and assets.
The AHF, which is funded by the United States President's Emergency Plan for Aids Relief, is a Los Angeles-based global non-profit provider of HIV prevention services, testing and healthcare for HIV patients. Dr Dyantyi also handed over two park homes (prefabricated buildings) - one for Lulama Kama Clinic and another for Njwaxa Clinic. The buildings were donated to the department by University Research Company and each of them has three consulting rooms and two toilets.
*Sidumise Madyibi works for the Eastern Cape Department of Health.