Written by Noluthando Mkhize
Communities across the country will start to feel safer as more police officers will be seen patrolling in their neighbourhoods.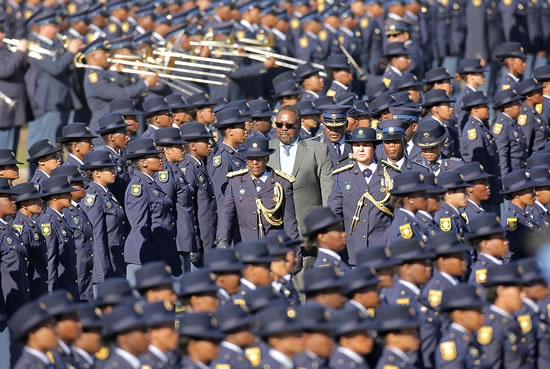 This after the South African Police Service (SAPS) passed out 3 641 men and women in blue who are now part of the SAPS.
The passing out ceremony took place recently in Athlone, Western Cape and in Pretoria, Gauteng.
Training the new police officers is part of the SAPS's efforts to improve police visibility and response time when attending to complaints.
Of the 3 641 new members, about 1 324 will be placed in the Western Cape and the rest will be placed throughout the country.
These recruits completed field training at police stations countrywide. They were also trained in basic public order policing, preservation of a crime scene, statement taking, and general interviewing skills as part of preliminary investigation towards solving crime.
Speaking during the ceremony Minister of Police Nathi Nhleko said the new members were ambassadors.
"You are ambassadors not only for the police service but for the entire government because most people have the first interaction with government services through police and policing.
"As such you need to be aware that sometimes professionalism alone will not be enough."
Minister Nhleko said the primary role of a police officer is to protect lives.
 "Refusing to succumb to making easy money is acting ethically. Use the resources that have been entrusted to you in order to achieve the objectives of your roles in a manner that shows responsibility, care and that you are acting ethically."
He encouraged the new members to take their jobs seriously.
"This is the start of a new journey. At times it will be unsafe. Sometimes it will be enjoyable.
"But in all instances, act in the way that would best mirror what you would like to hear as positive testimony by those whom you serve."
He added that the new members should develop themselves by continuing to study.
"This advice is not only directed at the new members but to all of you. You cannot lead if you do not read. There is a direct correlation between good leaders and reading widely.
"Make today the beginning of your lifelong journey of learning. I wish you well in your future and make us proud."
The SAPS will also get a further boost with members that will be re-enlisted shortly.
This follows an overwhelming response on a call by the SAPS on former members to rejoin the force.