President Jacob Zuma has pledged government's commitment to restoring pride in the teaching profession, which is universally acknowledged as the mother of all professions.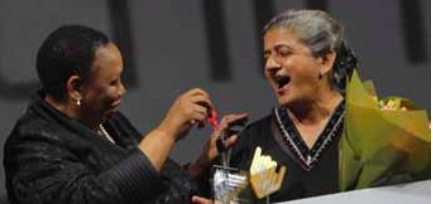 We want children to look up to teachers and learn from them more than the formal curriculum. Through watching the conduct of teachers, learners must want to be successful, respectful and to be good citizens, who will take the country forward to prosperity," said President Zuma.
He was speaking at the National Teaching Awards, which took place in March in Gauteng.
The awards salute the nation's hardworking and dedicated teachers.
The President challenged teachers to play their part in helping government make education an essential service.
He also urged them to turn around the image of the profession.
President Zuma, who is passionate about education, said he wanted South African children to get good quality education.
He stressed that an investment in education was a prerequisite for building a country that works and most importantly, advances the ideals of the Constitution.
Scooping the biggest win at the awards was Bilkes Vawda, who walked away with the Lifetime Achievement Award for her continued dedication and contribution to quality education in South Africa.
Vawda has been teaching for 39 years and is the principal of Marlboro Gardens Combined School in Gauteng. Her school caters for learners from Grade R to 12. Originally the school catered for Indian learners but has since transformed into a multi-cultural institution.
"We grew from only 400 Indian learners to a staggering 1 300 learners who represent our diversity. We have boldly embraced transformation," she said. The school has achieved a 100 per cent matric pass rate.
Vawda's prizes included a car and R25 000. Johannes Monnaphiri Melesi, the principal at Kopanong Secondary School in the Free State, won the Professor Kader Asmal Excellence Award.
Kopanong Secondary is situated in an informal settlement and is characterised by abject poverty. Despite these challenges, Melesi said he chose Kopanong Secondary over a former Model C school, where he was working previously, because he wanted to help disadvantaged children.
"I derive pleasure in serving the poorest of the poor. My transfer was easy and comforting," said an elated Melesi.
He also attributed his achievement to his staff. "My success is not mine but that of the people from the schools I went to and the province I come from."
Other winners included:
Excellence in Primary School Teaching: Julie-Ann Lendrum, Winchester Ridge Primary School, Gauteng.
Excellence in Secondary School Teaching: Ismail Teladia, Spine Road High School, Western Cape.
Excellence in Primary School Leadership: Mmakgopi Messina Mokgope, Tsitsing Primary School, North West.
Excellence in Secondary School Leadership: Derick Petersen, Imizamo Yethu Secondary School, Western Cape.
Excellence in Grade R Teaching: Karin Adlem, Pietersburg English Medium Primary School, Limpopo.
Excellence in Special Needs Teaching: Hanlie Swanepoel, Estralita Special School, Mpumalanga.
Excellence in ICT-Enhanced Teaching: Anita van Vuuren, Universitas Primary School, Free State.
People's Choice Award: Melanie Vandayer.