Written by Noluthando Mkhize
About a year ago Zethu Koma, of Mdansana in the Western Cape, did not know much about wine.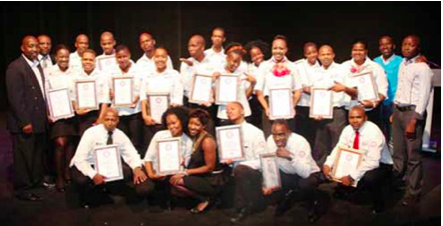 Today she's a wine expert, able to advise others on the right wine to crispy and buttery to describe the texture of wine.
Koma was one of 200 young people selected to take part in a Wine Advisor - Level 1 Sommelier Programme funded by the Department of Tourism.
A sommelier or wine advisor is a trained and knowledgeable wine professional, normally working in a restaurant and specialising in all aspects of wine.
The department invested R11 million in a year-long pilot training programme in partnership with the Wine Cape Academy.
Two hundred unemployed people, between the ages of 18 and 34, were selected for the course, after they responded to advertisements in local newspapers and Koma was one of them.
She started the course in March last year and graduated in February.
"Before attending the course I did not know anything about wine. I can now tell what type of wine should be served with which foods, like white wine goes well with seafood. The course has equipped me with skills to work as a sommelier in a restaurant, a representative for a wine company or a tour guide in the winelands," she said.
Her favourite wine is the Sauvignon Blanc because she enjoys the crispiness and flavour of it.
Tourism Minister Marthinus van Schalkwyk said the department decided to create opportunities in the field because of the shortage of sommeliers in the hospitality industry.
The success of another of the department's initiatives, the Youth Chef Training Programme, prompted it to fund the sommelier programme, he added.
"The wine advisor sommelier programme forms part of the broader perspective of the National Tourism Sector Strategy, which addresses the need for job creation and economic growth, as outlined in government's New Growth Path," said the Minister.
The department was committed, through its Social Responsibility Implementation programme, to developing skills and encouraging a supply of skilled manpower that would benefit the local hospitality industry, he added.
The sommelier programme includes a Wine Service Course, Preliminary Wine Course, Certificate Wine Course, Front of House, Marketing and the Wines of the World Course.
The programme includes four six-week practical work segments in the wine industry.
During the first practical, wine distributors and wholesalers took in students.
The practicals included front-of-house training hotels.
The department is still assessing whether the pilot project is suitable to be rolled out nationally and for a second intake.
As for Koma, after receiving distinctions in all four modules she is on her way to being one of the best sommeliers in the country.