Gauteng Education MEC Barbara Creecy has unveiled a High School Turnaround Strategy, which will empower over 5 000 matriculants annually with the appropriate skills and workplace experience.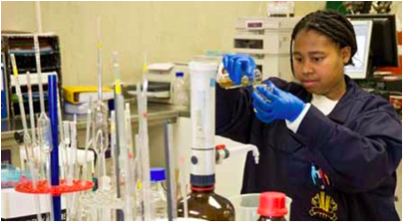 The programme, launched recently at John Orr Technical High School in Johannesburg, will ensure that more young people leave school with the knowledge and skills they need to get into an institution of higher learning or find decent work.
The Gauteng Education Department and private companies will implement the programme at 41 technical high schools across the province. John Orr is a flagship school, which will pave the way for the other 40 schools.
Speaking at the launch, MEC Creecy stressed the need to increase the number of technically trained learners that are ready to make a contribution to the economic growth of the country.
Through the turnaround strategy, the department hopes to raise the status of technical education in Gauteng and attract high performing learners to fields that can directly impact on various industries.
"Our intention is that John Orr will be transformed from a conventional technical high school into Gauteng's leading educational institution that offers state-of- the-art technical education and training, and serves as our model for the upgrading of [the other] 40 technical schools," MEC Creecy said.
In January 2011, John Orr was declared a school of excellence. A vigorous selection process was then put in place to identify high potential learners, who had just completed Grade 7 in primary schools throughout the province.
A total of 160 learners were selected and they became the Grade 8 class of 2012, the first class of the new centre.
A second group was selected at the end of 2012 and in 2013 the school has 142 Grade 8 and 161 Grade 9 learners.
In 2012 the school's infrastructure improvement programme began, which included four laboratories being overhauled and improved at a cost of R3 million.
R5 million was spent on revamping the mechanical and electrical workshops, while Imperial donated a new car and 10 engines.
All information and communication technology (ICT) infrastructure was also the MEC announced.
The partnership between the department, Sasol Inzalo Foundation, Imperial and Ukhamba Community Development Trust as well as the Wits and Johannesburg Universities, has made it possible to transform John Orr into a centre of excellence in maths, science and technology.
Sean Fenn, divisional general manager in development and learning at Imperial Automotive Retail Division, said Imperial put an estimated 700 apprentices through their academies annually to become mechanics in various trades.
"They are just so hard to find ready to be employed and so the John Orr investment is about establishing of a pipeline of employment for John Orr and for Imperial," Fenn said.
He added that there was a desperate need for business, education and government to repair the feeding pipelines into the academies and the industry.
Sasol Inzalo Foundation's Dr Yvonne Muthien said the programme would offer excellence in teaching and learning, particularly in maths, science, engineering, technology and related subjects.
"It will deliver school leavers who are effectively prepared to succeed in post-secondary education and training in science, engineering and technology and in the technical world of work," she said. John Orr principal Johan Venter described the programme as a great innovation and hoped that more great things were on the cards for technical high schools