Written by Neville Maakana
Inspired by a community meeting that urged them to take control of their destiny, unemployed Nwamitwa villagers turned to pigs to earn an income.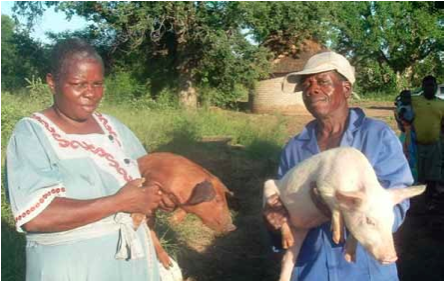 Residents combined their resources and determination to set up the Hluvukani Khubu Piggery Cooperative in Limpopo. Now, seven of them farm about 100 large white pigs, which are sold to residents and local abattoirs for up to R1 500 per adult.
"We run the project in the spirit of vuk'uzenzele (wake up and do it for yourself). With the money we make we are able to buy food and school uniforms for our children," said project manager Agnes Tivani, 53.
Selina Nukeri, a single mother of three, explained that the initiative started in June 2010 after a community meeting.
"At the meeting we were told to stop moaning about the lack of jobs and create our own projects. A group of us met to discuss what we could do. After a lengthy discussion, looking at the advantages and disadvantages, we settled on a piggery," said the 48-year-old.
The group got more information from the Limpopo Department of Agriculture and at- tended a two-day training workshop.
"The workshop was an eye-opener. We learnt how to construct a pigsty and got information on feedstock, immunisation and other important aspects of pig farming," she added.
To kick start the project, each member contributed R500 over five months. The money was used to make bricks, build pigsties and buy 13 piglets. A local ward councillor also gave them two piglets.
Last year the project was registered as a co- operative with the help of the Small Enterprise Development Agency (Seda), an agency of the Department of Trade and Industry. Seda is currently helping the group draw up a business plan and apply for funding.
Nukeri added that it had not been an easy road. Eleven people were initially involved in the project but four later quit.
"For the first two years we didn't make any profit. In fact, we wouldn't be here without the support we received from the Department of Agriculture. They provide us with transport to buy feedstock and they continue to offer advice and constant monitoring," she said.
The cooperative has big dreams for the future.
"We want to become a major player in the meat business," said 62-year-old Samuel Hlatshwayo.
He feeds the animals twice a day and lets them out of their pigsties to run around the yard.
"It is important for the animals to exercise. When an animal gets sick, we call a veterinarian from town to come and treat it," he added. Anna Nkuna, 53, a single mother of six, said the piggery gave her a sense of purpose, allowing her to do something good for herself, her children, community and country.
Limpopo Department of Agriculture spokesman Kenny Mathivha said the piggery is one of more than 500 agricultural projects supported by the department.
"We don't give farmers money but provide the necessary training and facilities they need in order to grow and produce food for all. We provide piglets to those who want to start piggeries," he said.
He encouraged emerging farmers to form cooperatives, saying this made it easier to link them with other farmers and access the markets.
For more information contact the Limpopo Department of Agriculture on 015 294 3000.