Sport, arts and culture
South Africa will mark Freedom Day on 27 April in remembrance of the country's first democratic elections held in 1994.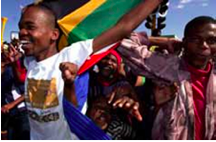 On this historic day the country will commemorate the achievements that have been made in entrenching democracy and creating a better life for all.
As the nation celebrates Freedom Day, South Africans can be proud of the resilient and maturing democracy that has been built, thanks to the contribution of all citizens.
The country has come a long way from its divided and bitter past to a society that is based on equality, dignity and respect for human rights.
South Africa has held four successful democratic elections and created a government that represents the will of the people.
All South Africans have a responsibility to ensure that democracy and freedom is maintained and strengthened for future generations.
On 21 March the country also marked Human Rights Day, which was commemorated under the theme: United in advancing socio-economic freedom for all.
The day is celebrated to remind South Africans of the great suffering and loss of life that accompanied the struggle for human rights.
It is a reminder that people in South Africa will never again be denied their human rights.
Human Rights Day also commemorates the events that took place on 21 March 1960, when Africans protested against the Pass Laws of the time.
On this day people decided to go to police stations without their passes and demand that the police arrest them.
At Sharpeville in Gauteng, thousands of people gathered at the police station and demanded to be arrested. They were met by 300 police officers.
After a scuffle broke out, police opened fire on the crowd. At least 67 people were killed and 180 injured.