Residents of Tsakane in Gauteng will no longer have to travel 17km to get access to basic justice services.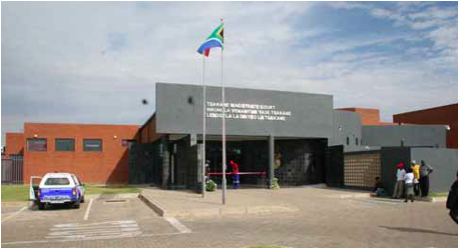 Thanks to the new magistrate's court, which was recently opened in the area, they will have these services at their doorstep.
The new court boasts four courtrooms, which will be used for criminal, civil and equality matters, as well as family law and regional courts.
There are also four offices for prosecutors, four for magistrates, a cash hall, domestic violence office, civil clerk office, maintenance office, an office for Legal Aid South Africa and three holding cells.
The court was operating as a branch court of Brakpan but as of April it began rendering full services, including regional court services. It will also deal with over 50 per cent of matters that were held in Brakpan.
"This means that now services will be rendered at your doorstep. This also means the workload and congestion at the Brakpan Court will be halved and that the workload in this new court will equally not be as congested as the Brakpan Court was before we built this new court," said Justice Minister Jeff Radebe at the court opening.
It was a win-win situation for those using either the Brakpan Court or the new court, he pointed out.
The Minister urged residents to use their new magistrate's court to report crimes, especially sexual crimes and those against women and children.
Minister Radebe said the country needed a concerted effort from communities, non-governmental organisations and the Justice, Crime Prevention and Security Cluster to address the shocking, violent crimes in society.
"…we will take decisive action against any violator of our laws and we call on all the people of Tsakane and other areas to ensure that we help bring the perpetrators to book so that justice is dispensed in all criminal and civil matters," he added.
The Minister also called on all those in law enforcement roles to stop committing criminal acts, saying this sort of behaviour did not help to inspire confidence in the criminal justice system of the country.