The 15th anniversary of the establishment of diplomatic ties between China and South Africa is a momentous occasion that will be celebrated in both countries throughout 2013.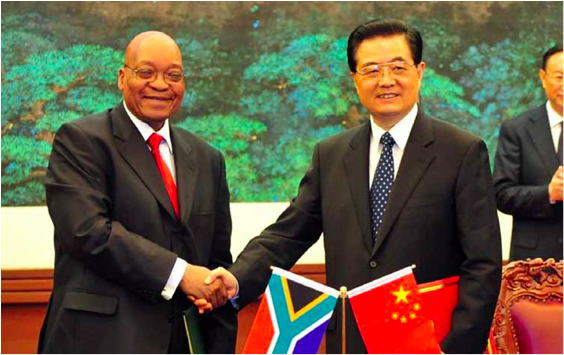 This is according to South Africa's Ambassador to the People's Re- public of China Bheki Langa.
South Africa and China established full diplomatic relations in January 1998. Since then, relations between the two countries have blossomed.
International Relations and Cooperation Minister Maite Nkoana-Mashabane says the 15th anniversary of relations between the two countries is a joyous occasion.
"An occasion such as [this] affords us the opportunity to reflect on past achievements with a sense of pride, whilst also looking into the future with a sense of optimism, purpose and determination."
China has become South Africa's largest trading partner.
According to Minister Nkoana-Mashabane in 2012, total trade between the two countries stood at R201 billion.
South Africa's exports to China stood at R84 billion in 2012, according to data released by the South African Revenue Service.
South Africa's exports to China are mainly mineral products such as iron ore, chrome, manganese and coal. Other exports include chemicals, plastics, steel, aluminium, paper, pulp, alcohol, wool and copper.
"Over the past one-and-a-half decades, the relationship between the two countries has gone through some three principal stages - from a partnership in 2000, through a strategic partnership in 2004, to a comprehensive strategic partnership in 2010. From 2010, China became South Africa's largest trading partner," says Ambassador Langa. The Chinese Ambassador to South Africa Tian Xuejun says China sees South Africa as a strategic partner.
"South Africa is now China's largest trading partner in Africa. The scope and depth of our economic cooperation has expanded."
He says the two countries have also forged closer cooperation in areas such as education, arts, culture, science and technology, sports and protection of heritage sites.
The strengthening of relations between the two countries is also reflected in the increasing number of Chinese tourists visiting South Africa.
Over 96 000 Chinese tourists visited South Africa between January and September 2012, up from the 59 187 who visited over the same period in 2011. This makes China the country's fourth-biggest overseas tourist market.
Minister Nkoana-Mashabane says a Joint Working Group on Trade Statistics under the Bi-National Commission has been established to address the trade imbalance between China and South Africa. This refers to the fact that Chinese imports outweigh South African exports.
"Furthermore, South Africa is actively expanding its market share in China by introducing 10 priority products and investment projects in various fields," she says.
China and South Africa are both members of the Brazil, Russia, India, China and South Africa (BRICS) bloc of countries.
South Africa also works with China on the Forum on China-Africa Cooperation.
"This forum has proven to be a key instrument in advancing Africa's development agenda. For the next six years, South Africa and China will collaborate vigorously, yet with sensitivity, in order to address the interests of all stakeholders," says Minister Nkoana-Mashabane.