Written by Noluthando Mkhize
During the more than 20 years that Pinkie Moloi has lived in Diyatalawa in the Free State, the mother of four has struggled to find a job to support her family.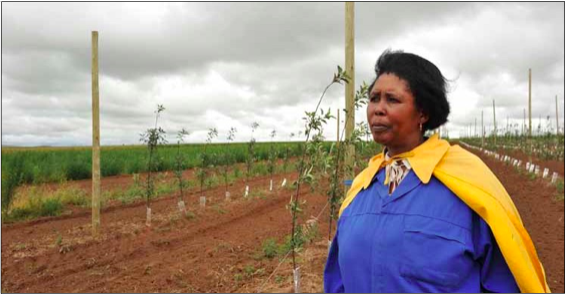 But all that changed when President Jacob Zuma launched the Comprehensive Rural Development Project (CRDP) in 2009 and Diyatalawa, due to its extreme poverty, was identified as one of the pilot sites for the project.
The CRDP is an effective response to poverty and food insecurity. It helps with land redistribution, improving food security, creating business opportunities and expanding opportunities for rural women, youth and people with disabilities.
In 2011 President Zuma visited Diyatalawa to check up on the project as part of the Siyahlola Presidential Monitoring Programme.
Moloi and other community members had the opportunity to tell the President about the poverty they had to deal with and their difficulties in finding jobs.
President Zuma instructed that an intervention task team be established and put in place plans to help and develop the people of Diyatalawa.
To assist Moloi and other residents, government land was allocated for a number of projects and this became known as the Diyatalawa Communal Property, with residents electing a committee to oversee the running of the project.
The committee is supported by the Department of Rural Development and Land Reform, which serves as an advisory council.
Moloi belongs to a cooperative under the umbrella of the Diyatalawa Communal Property, which farms apples, beans and wheat.
She and her group sell their produce at the Harrismith market, earning an income to provide for their families.
"When people say that government does nothing for the people it's not true. I wake up with a purpose to feed my family. We were living in poverty but things are a lot better. We also received training on how to run our cooperative," said Moloi.
Fusi Radebe, chairperson of the communal committee, shares Moloi's sentiments.
Radebe explained that after farming parastatal Agri-Eco was liquidated in 1998 people were left jobless.
"In 2009 government started to intervene, advised us to start cooperatives and trained us to farm. Currently, there are seven cooperatives that farm beans, apples and wheat. The Agri-Village is supporting 50 households, creating employment opportunities," she said.
Diyatalawa Communal Property's farming projects are collectively known as the Diyatalawa Agri-Village.
Free State Department of Agriculture's acting district director Alta Mayor said R500 000 was used to clear the old apple orchards to make way for new crops, which also created a number of employment opportunities for locals.
The national department also stepped in and set aside R2.5 million to revive apple orchards in Diyatalawa.
The cooperative is also reaping the rewards of their wheat crops.
According to the Department of Rural Development and Land Reform, 418 hectares of wheat was planted in 2010/2011 season.
About 314 tons of wheat was harvested, generating an income of more than R800 000. The money was ploughed back into the business. A tractor was bought and R293 000 was used to plant 50 hectares of beans. Households also received an income.
The Department of Rural Development and Land Reform and the provincial Department of Agriculture set aside about R1.5 million for the farming of crops.
During a visit the area to monitor progress of the project recently, Free State MEC for Agriculture and Rural Development Mosebenzi Zwane said government was starting to see results in the development of the area.
"We have taken time to learn about the project. We trust that the success of Diyatalawa will be implemented across the country. At a later stage we would like to see the committee run itself without the involvement of government," he added.
Moloi is also grateful for the project's success. She was optimistic that the success would continue and help improve the lives of her grandchildren and Diyatalawa's youth, just like it improved hers.
For more information contact the Free State Department of Agriculture on 051 506 1585.