Written by Mduduzi Tshabangu
Thulasizwe Shabalala was a newly qualified teacher when he left his job in 2011, after just two years, to start the Thuthukamzizi Bakery Cooperative with five other people.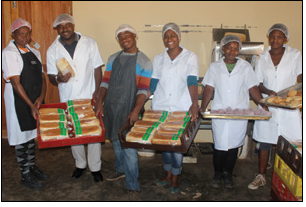 Shabalala says he always had a passion for the business world and decided to take a leap of faith by getting involved with the cooperative.
The Thuthukamzizi Bakery Cooperative, which is based in Emazizini, south of Bergville, KwaZulu Natal, was registered in 2009.
Members of the cooperative – Shabalala and five women - explored business ideas and the bakery was identified as the most promising.
They approached the Small Enterprise Development Agency (Seda) for help with their business plan and have not looked back since.
In 2010, the cooperative received a R250 000 grant from Old Mutual which was used to build the facility they work out of.
The building has five rooms, which include a baking area, storeroom, shop, office and conference room.
KZN Wildlife also supported the group by buying them bakery equipment, a container, borehole and electrifying the premises.
The KZN Department of Economic Development, Environment and Tourism arranged training and mentoring in baking for members of the cooperative.
In 2011, the cooperative applied for a grant from the National Development Agency (NDA) to buy baking machines and other equipment.
The application took about a year to process and was successful. The cooperative was granted R1.8 million, which would be allocated in phases.
Over the past five years the NDA has supported 50 projects in KwaZulu-Natal, spending about R77.7 million, according to NDA CEO Dr Vuyelwa Nhlapo.
So far, the Thuthukamzizi Bakery Cooperative received R850 000. This was used to buy a delivery truck, stock for the bakery, electricity upgrades and other machinery.
"When we started the cooperative we were working from a container we received from KZN Wildlife. The container is now being used as a tuckshop and is run by one of the members. She keeps the money which comes from the limited direct sales that takes place from the premises," said Shabalala.
Besides bread, the cooperative also makes scones, muffins, rolls and biscuits.
Shabalala says the cooperative also sells soft drinks to the community and bread to the local school.
All of this takes hard work and the cooperative is busy throughout the day, working on a three-shift system.
"We supply local businesses such as B&Bs, hotels and tuckshops in the community. We started by making 600 loaves of bread per day and today the production has doubled."
The cooperative employs 14 young people on a contract basis who receive a stipend from the NDA.
Shabalala says one of the cooperative's biggest challenges is securing bigger contracts because they are competing with big companies.
He adds that their dream is for the business to be known throughout South Africa and expand to other areas such as growing and selling vegetables.