Written by Mathapelo Nhlapo
The Gauteng Department of Education (GDE) is on a mission to make schools in the province safer.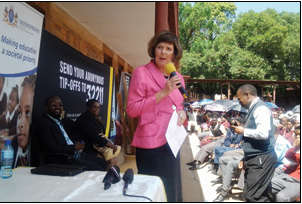 The GDE, working with the South African Police Service (SAPS), Crime Line and Lead SA, recently launched the Young Crime Liners initiative to tackle the increase in crime and social problems at the province's schools.
The schools face problems such as drug and alcohol abuse, vandalism of school property, gangsterism and bullying.
The initiative, launched at Mosupatsela Secondary School in Kagiso, will give learners tools to report crime and social issues anonymously. The aim is to root out criminal behaviour and tackle bullying and abuse.
Education MEC Barbara Creecy encouraged learners to pass on information to the police about criminal activities at schools.
"Members of the SAPS cannot be in every classroom in our schools. It is therefore important for you as learners to provide information so that we can root out crime in our schools," she said.
Learners and members of the public can call Crime Stop on 08600 10111 with their anonymous tip-offs or send an SMS costing R1 to Crime Line on 32211.
To make schools safe and secure and help learners perform at their best, the GDE has also implemented the Extra School Support Programme.
This programme has resulted in 6 041 patrollers being appointed as security staff at 1 300 schools.
In addition, 1 408 schools have been linked to SAPS across the province and safety committees have been set up in each of the schools.
* Mathapelo Nhlapo works for the Gauteng Department of Education.