Written by Samona Murugan
Infrastructure
South Africa is taking s teps to produce renewable energy to meet its increasing energy needs and reduce its reliance on coal-powered power stations.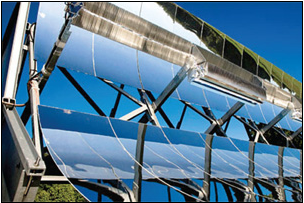 Energy is the fuel we use in our daily lives. We use petrol or diesel to fill up our cars and gas or electricity to cook our food. However, these energy sources are in great demand, cost a lot and take a long time to manufacture.
With more than 50 million people living in South Africa, more and more energy is needed, and if other energy sources are not used, the country could face a severe shortage of energy.
Renewable energy is made from natural resources such as plants, sunlight, wind, waves and geothermal heat.
The Department of Energy (DoE), as part of its renewable energy strategy, has set a target to create 10 000GWh (Gigawatt hours) of energy from renewable energy sources by the end of this year. This amount of energy would be enough to cover the electricity used by about 2.2 million homes for a year.
To help boost and create renewable energy, Eskom established new power stations throughout the country. The DoE estimates that these new renewable energy projects will contribute almost R1 billion to the country's revenue each year, create over 20 000 new jobs and save almost 16.5 million kilolitres of water, which will in turn save government almost R26 million a year.
Solar power on the rise
Construction of the country's first two Concentrated Solar Power (CSP) stations is also underway. Khi Solar One and KaXu Solar One in the Northern Cape will be able to draw enough energy to supply electricity to the country's national grid at critical times.
Khi Solar One is a 50MW power tower plant in Upington that will use large sun tracking mirrors called heliostats to direct sunlight onto a receiver at the top of the tower. Water is then pumped up the tower and is converted into steam, which is used in a conventional turbine generator to produce electricity. The power station will also include a steam storeroom that can generate electricity when the sun is not shining.
The plant will prevent about 183 000 tons of carbon emissions each year and will create almost 600 jobs during construction and a further 35 once the plant is up and running.
KaXu Solar One will be a 100MW parabolic trough plant near Pofadder and will use salt to store heat energy. The parabolic trough system simply means that the sun's energy will be received by parabolically curved, trough shaped reflectors.
The energy will heat oil fl owing through the pipe. The heat energy is then used to convert water into steam to generate electricity in a conventional steam generator. About 800 jobs will be created during construction, with an additional 35 created during operation. KaXu Solar One will prevent 315 000 tons of carbon emissions each year.
South Africa will also introduce a third CSP called the Bokpoort CSP in the province. The R4.5 billion power station will be built in the near future.
According to the Northern Cape Department of Economic Development and Tourism, the town of Prieska is now home to the country's first ever solar park. Phase 1 of the development aims to produce 1GWh of energy by 2018. Government has also completed the 75MW Kalkbult solar farm in De Aar in the Northern Cape and is well on its way of installing almost 17 800MW of renewable energy by the end of 2030.
New power stations
Medupi Power Station is being built in Lephalale, Limpopo, as a new dry-cooled, coal-fired power station. South Africa can expect electricity next year from Medupi, which will have six boilers powering 794MW units to produce over 4 764MW of power, enough to supply the electricity needs of about 1 000 homes for a year, by June 2014.
The Kusile Power Station in Mpumalanga is the second coal-fired power station built as part of government's infrastructure expansion programme.
Kusile's first unit will start producing electricity as from December 2014.
In total Kusile has six 800MW units, with the remaining units scheduled for completion in 2017.
The R121 billion third power station, Ingula, is being built on the border of the Free State and KwaZulu-Natal.
Public Enterprises Minister Malusi Gigaba stressed that government was committed to meeting the electricity demand in the country.
"We are confident that we can turn things around with the measures and strategies we have put in place to make sure that electricity supply capacity grows to meet rising demand as our country pursues its growth rate targets," he said.
About 180 000 people have found work through the government's infrastructure programme.
The largest single-site employment is Medupi Power Station which employs 17 000 people.
Kusile Power Station is the second largest employer, employing 14 002 people.