Written by Noluthando Mkhize
When Tshepo Moloi discovered he could not continue teaching because of poor health, he decided to pursue his second passion in life - farming.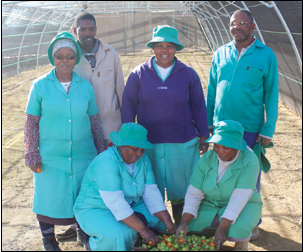 With no skills in farming, he teamed up with six members from his community in Escourt, KwaZulu-Natal, to form the Dlondlobala Agricultural Cooperative.
The group of four women and three men specialise in crop production and farming oyster mushrooms, which they supply to local supermarkets and the community.
The cooperative employs 47 people and had a turnover of about R180 000 last year.
"After leaving my teaching post I saw myself doing nothing along with some of my neighbours. I realised that I could have a second chance in life and also tap into the agricultural market," says Moloi.
The group registered their business in 2008. Moloi says the next step was trying to get the business off the ground with limited funding and this was where the National Development Agency (NDA) stepped in.
The NDA gave the cooperative R1.8 million and with this grant they bought five tunnels used for farming and put in place a water irrigation system, facilities for the mushrooms to be grown in and electricity. The cooperative also approached the Umtshezi Municipality for land.
"We received the land and opted for the hydroponics method of farming," Moloi recalls.
The cooperative chose hydroponics - where crops are grown with nutrients and water, without soil - as it yields more than farming in the soil.
With this method, pests and diseases are easier to get rid of because the crops are grown in a container.
"Even though we grow green pepper, potatoes, lettuce and tomatoes we still have a special interest in mushroom farming," says Moloi.
"There was something different about farming mushroom, especially the technology involved that made us more interested in them," he adds.
Moloi and his partners have big plans for the future.
"In the future we would like to see ourselves as fully fl edged business people and leading farmers," he says.
Over the past 10 years the NDA has helped a number of cooperatives like Dlondlobala Agricultural, allocating over R1 billion to support communities through its programmes.
Chief Executive of the NDA Dr Vuyelwa Nhlapo said the agency had funded 44 food security projects, which encouraged communities to grow their own food products for private and commercial use, over the past three years.