Written by Yolisa Manxiwa*
Infrastructure
Mthatha is a developing city with good prospects of competing against established cities like Johannesburg in the future.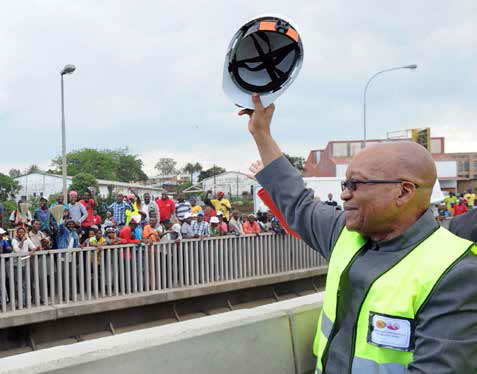 This is according to President Jacob Zuma, who recently launched the multi-million rand infrastructure upgrades in the King Sabata Dalindyebo Municipality of the Eastern Cape.
The projects the President unveiled cut across water, electricity, roads and transport. President Zuma said while there had been challenges that had caused delays in the delivery of services, government was committed to rolling out services to priority areas.
"Today, we came to inspect and officially launch infrastructure projects related to water, electricity, roads and transport. As you are aware, work is continuing to improve the infrastructure and the living conditions in Mthatha.
"We are also looking at improving housing but are constrained by the land issue, which has not been resolved yet. Today's programme demonstrates government's seriousness in extending services that improve lives," he said.
The President's visit was markedly different to the one in 2010, when he was not impressed with the progress made when he evaluated several infrastructure projects in the area.
"In 2010, I visited this area and was disappointed by the condition of infrastructure in King Sabata Dalindyebo (municipality) and the fact that Mthatha and surroundings appeared to be in a state of collapse," he recalled.
This time around, he unveiled several projects, including the completion of the Thornhill substation, which was upgraded at a cost of R40 million.
Government has invested millions of rands to provide electricity to the area and almost 3 000 new electricity connections have been made.
"Over the last two years, a total amount of R251 million was spent in the (municipality) for network upgrading and strengthening of networks to ensure better quality of (electricity) supply," he said.
The project created 125 jobs.
President Zuma also officially re-opened Mthatha Bridge, which was expanded at a cost of R108 million to ease traffic congestion and travelling time to town.
He also said government had put out a R200 million tender to upgrade Mthatha Airport. Planned improvements include building a new car hire facility with a separate parking area and wash bay; a new security fence around the whole airport, with a parallel security road with lighting; heightening the control tower; landscaping around the new terminal building and the renovation of the existing cargo building.
"A new runway has been constructed and the airport will be able to receive larger aircraft, which will unlock the economic potential of the region," said President Zuma. He was also happy with progress made in the construction of two reservoirs at the Mthatha water treatment plant.
President Zuma said several other electricity grid upgrades and electricity connections to households had created hundreds of jobs in the area.
"Government has prioritised electricity provision in the least electrified provinces of KwaZulu-Natal, Limpopo and the Eastern Cape, focusing specifically on the building of network capacity in these provinces to support additional connections."
Efforts were underway to improve infrastructure and the living conditions in Mthatha, he added.
"A lot has been achieved already in 19 years and much more is still being done," said the President.
* Yolisa Manxiwa works for GICS in the Eastern Cape.