Written by Samona Murugan
In the deep rural village of Pella Namakwa in the Northern Cape, residents struggled to get to shops and learners had to walk long distances to school.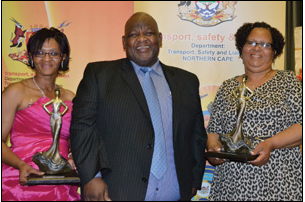 Access to public transport was a huge problem, until Lina Simboyia decided to do something about it. She bought a 15-seater taxi and ventured into a male dominated taxi industry, becoming the first female taxi driver in the area.
Fast forward 10 years later and Simboyia is now a successful taxi operator, the first female regional chairperson of the South African National Taxi Council (Santaco) and more recently, a winner in the Northern Cape Women in Transport Awards.
Simboyia won the Women Entrepreneurs in the Transport Industry category, which honours women who have demonstrated outstanding leadership, growth and development in their transport business.
"Not only is this a big victory for me, it is also a victory for the industry as a whole, especially for us women to be recognised," said Simboyia.
The awards, an initiative of the Northern Cape Department of Transport, Safety and Liaison, highlight contributions and outstanding achievements made by women in transforming the province's transport industry.
Simboyia said it was time women took charge of their future and ventured into male dominated industries.
She has also been instrumental in motivating women in her village to start their own businesses.
"I wanted to inspire other young women to take charge of their own future," said Simboyia.
Apart from inspiring others, Simboyia is also empowering them, having hired five people so far.
Another woman making her mark in the province's transport industry is Tanya Anders.
Anders, a traffic officer at the Britstown Provincial Traffic Office, won the Women with Best Outstanding Law Enforcement Role in the Transport Industry category.
The category recognised women who supported the transport industry in their law enforcement roles.
Anders is part of the Public Transport Inspectorate, a unit that is responsible for ensuring that public transport abides by the law.
She was rewarded for going beyond the call of duty by not only ensuring compliance in the public transport industry in her town, but in the neighbouring town of Carnarvon as well.
Anders said it was her job to remove unroadworthy vehicles from the roads and assist with taxi conflict.
"I also educate taxi drivers and operators on the National Land Transport Act, so they are aware of the rules and regulations they need to abide by," she added.
Northern Cape Transport MEC Mac Jack said the awards promoted gender equality in the mainly male dominated transport industry and was aimed at encouraging women to pursue careers in the field.
"Without a doubt, this industry has been dominated by men for a very long time, but now women have arrived," he said