Written by Samona Murugan
Youth matters
Becoming a chartered accountant (CA) was never part of Tokelo Sekese's plans.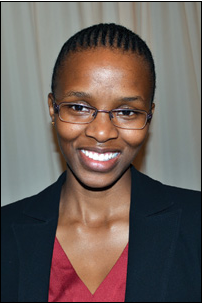 It was only after she found out about the Thuthuka Bursary Fund in her matric year that the idea to forge a career crunching numbers began to take shape.
With a shortage of black CAs in the country, Sekese saw the fund as a means to help her make a difference in the industry.
The fund, created by the South African Institute of Chartered Accountants (SAICA), helps disadvantaged students realise their dreams of becoming CAs.
Sekese applied for Thuthuka funding in 2004, while completing her matric at Riverside High School in Vereeniging.
She received a bursary in 2005 to study Bachelor of Commerce (Accounting) at the University of Johannesburg. The bursary covered her accommodation, tuition, books, meals and included a living allowance and additional support programmes.
After graduating in 2008, Sekese completed her articles at Grant Thornton, where she worked for almost four years. Today, the 27 year-old is a successful CA at Investec.
"Without the Thuthuka Fund I would not be the well-rounded CA I am today. It provided me, not only with financial support, but I also had access to the best tutors and lecturers through the extra classes that we received."
Sekese admits that she started her studies as a selfish, self-righteous teenager.
It was through the emotional and academic support she received through the fund that she became a hard working young woman, aware of her responsibilities with regards to transformation in the country.
"Today, I am a proud Thuthuka CA and I fl y the Thuthuka fl ag high," she said.
About Thuthuka
The Thuthuka Bursary Fund was created in 2000 to address the shortage of African and Coloured CAs in the country. There are only 35 000 CAs in South Africa, of which only 2 700 are black (including Coloureds). Through the Thuthuka Bursary Fund, SAICA aims to develop almost 18 000 new CAs each year.
This year, the fund saw 1 000 learners studying accounting at universities across the country.
Thuthuka, which means 'to develop' in isiZulu, aims to develop young minds across the country, encourage learners to choose mathematics as a matric subject and highlight accountancy as a career choice.
SAICA also launched the Thuthuka Education Upliftment Fund (TEUF) to access and manage the funding needed for accountancy skills development programmes.
As part of the TEUF, various programmes have also been rolled out across the country. These include:
The School Level Initiatives, which promotes chartered accountancy as a career option for learners from disadvantaged schools.
Career promotion activities, exhibitions, presentations and symposiums that are conducted in all nine provinces.
The Educator Workshops improve the skills of mathematics and accounting educators in schools through practical teaching methodologies.
SAICA together with the provincial Departments of Basic Education, carry out Maths Development Camps for learners in Grades 11 and 12.
Outreach Feeder Programmes run in partnership with universities, to provide supplementary classes in mathematics, English, science and accounting.
Accounting and Maths Olympiads are carried out among 5 000 learners nationally. Together with the South African Mathematics Foundation (SAMF), the Olympiads are used to create awareness about the chartered accountancy profession to promising maths learners.
In an effort to ensure more learners have access to funding, government pledged a donation of R40 million to the fund earlier this year. Thuthuka usually requires about R40 million to recruit 400 new students each year. With the additional funding from government, the fund will be able to double its enrolment to 800 next year.
Accessing the Thuthuka Bursary Fund Learners can phone 08610 SAICA (72422) and ask for the Thuthuka Bursary Fund application form to be sent to them.

Completed application forms can be emailed to 

saica@saica.co.za

or posted to The Thuthuka Bursary Fund, PO Box 59875, Kengray, 2100. Learners can also visit the SAICA website 

www.saica.co.za

 for more information.