Written by Samona Murugan
The Department of Transport has been hard at work introducing state-ofthe- art transport facilities by upgrading road, rail and aviation infrastructure. Yet despite these world-class improvements, serious accidents continue to take place, leaving families devastated and the country poorer.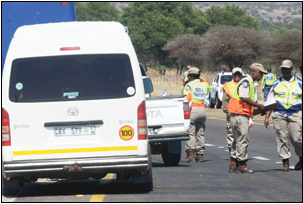 This is because many road users continue to be disrespectful, irresponsible and inconsiderate while on the roads. Transport Minister Dipuo Peters said road safety remained a huge concern for her department and government. To tackle this issue, the department introduced the 365 Days of Road Safety Programme recently.
As part of the programme there will be more roadblocks, stop and goes, visible traffic monitoring and policing, as well as tougher measures against road users who misbehave, she said.
Traffic authorities will also continue to deal harshly with drunken driving, speeding, unsafe overtaking, overloading and driving unroadworthy vehicles.
"I am concerned that more people are killed on our roads despite the road safety campaigns and education that we carry out across the country every year. As a government we cannot do it alone," said the Minister.
In 2009 government committed to the Millennium Development Goals, which include improving road safety and halving the number of road fatalities by 2015.
In 2001, about 11 201 people were killed in 8 802 accidents. From 1 December 2012 to 4 January 2013, 1 348 people were killed and 1 124 fatal accidents took place.
As a result, South Africa was ranked the worst out of 36 countries when it came to road fatalities, according to the International Transport Forum's (ITF) Road Safety Annual Report, released in May this year.
According to the Minister, the majority of the vehicles involved in crashes were not roadworthy.
"The long-term effects of road crashes are devastating. Breadwinners are taken away from their families. I do not take it lightly when transport operators pay lip service to vehicle roadworthiness and road safety as a whole." As a result of these accidents, which could have been avoided, families are left to fend for themselves.
The department recently introduced Operation Kwanele: It's enough, in the Colesberg and Noupoort areas of the Northern Cape. Motorists and road users were educated and encouraged to heighten road safety awareness and take responsibility for their safety.
Despite the department implementing various road safety programmes, such as Operation Kwanele, the number of road fatalities is increasing and if the current trend continues, road crashes are predicted to become the leading cause of death by 2020.
The department also revealed that at least R306 billion was lost each year as a result of road crashes.
The cost included loss of manpower and skills due to fatalities and injuries, emergency medical services, post-crash services such as road repairs and clean-up operations and compensation paid out to victims.
The Road Accident Fund (RAF) alone pays out at least R15 billion to victims of road crashes each year. Of this amount, R1 billion is for continued medical support of the injured. Through its Community Outreach Programme, RAF on the Road, the fund is able to swiftly register and settle claims on location.
Law enforcement is also a crucial part of the 365 Days of Road Safety Programme, said the Minister.
Major challenges include unqualified drivers being issued with licences and unroadworthy vehicles being certified as roadworthy.
The safety campaign will aim to ensure that only learner drivers who have received adequate training will be booked for a driving licence test.
"No one should bypass processes to make extra revenue at the expense of people's lives," said the Minister.
In addition, the national Administrative Adjudication of Road Traffic Offences (Aarto) and its demerit points system would also be rolled out. Minister Peters said road safety wasn't just the responsibility of government and drivers but also that of fleet owners, passengers and pedestrians.
Government is confident that its campaigns, will make an impact and the country's roads.