Written by Noluthando Mkhize
As South Africans take a much-needed break this festive season, the South African Police Service (SAPS) is out in full force to ensure the safety of all citizens.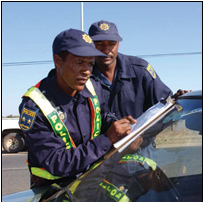 Speaking at the launch of the national Duty Calls Festive Season Operation in George recently, Police Minister Nathi Mthethwa said this year's campaign would focus on crimes against vulnerable groups.
"This campaign centres around aggravated robberies, border security, illegal firearms, liquor and Second Hand Goods Act enforcement, by-law enforcement and road safety enforcement. This year in particular, we shall be having a concerted focus on crimes against women, children, persons with disabilities and the elderly," said Minister Mthethwa.
The operations began in October and will end next month.
The Minister pointed out that every festive season, families came together to share a spirit of goodwill while robbery, murder and hijackings put a damper on this and created fear and anxiety.
Police would work hard to ensure that families had nothing to worry about and would be out on the streets keeping a close eye on holidaymakers, he added.
"We are also intensifying our partnership with society in the fight against crime as well as intensifying police visibility during the period."
Efforts were also underway to ensure that people did not lose their hard-earned money.
"During this period there is an increased movement of large sums of money like individuals receiving their bonuses and stokvel associations withdrawing large savings as well as schools receiving admission funds.
"Such transactions and financial movements, unfortunately, also provide opportunities for criminals to commit crimes like bank robberies, cash in transit heists, ATM bombings, armed robbery and theft," he warned.
Minister Mthethwa said government, working with communities, had put in place safety measures to prevent these crimes.
SAPS, as the lead agency of the National Joint Operational and Intelligence Structure (NATJOINTS), spearheads these operations, which aim to educate people about the rise in these crimes during the festive season.
Fight crime
He said police would be involved in a number of operations countrywide, interacting with communities, businesses and other organisations to fight crime.
Minister Mthethwa added that while police would deal with criminals, parents and guardians had to play a greater role in caring for and protecting children.
"Members of society, including children, must work together with law-enforcement agencies in combating abuse, neglect and exploitation of our children."
He appealed to parents and communities to protect children against drug abuse, saying it could not be left to government alone.
"We want to say that young people, these criminals who sell you drugs, are not interested in your well-being. These drug lords are hell-bent on destroying your future. Do not get hooked because that will be the beginning of the destruction of your lives."
Minister Mthethwa said once the youth were hooked on drugs, they turned to crime, such as burglaries and theft, to sustain their habit.
"When we passed the Second-Hand Goods Act … our intervention by and large was targeting such criminal acts. The Act stipulates that any person who buys stolen goods is as guilty as the person who stole the goods; and harsher sentences will apply to both the buyer and the thief.
"Now with the new law, both the buyer and the seller face a prison sentence of up to 10 years, which in the past was 10 months. This shows our resolve that perpetrators (must) face the wrath of the law," he warned.
Meanwhile, National Police Commissioner General Riah Phiyega said she was pleased that the communities were partnering with SAPS in the fight against crime.
She noted that Community Police Forums were a vital link between the community and the police.
General Phiyega reminded South Africans about the 24-hour hotline – Crime Stop – they can call to report suspicious activities, including child neglect and abuse.
The Crime Stop number is 08600 10111.