Written by Samona Murugan
An attempt to break the world land-speed record is proving to be the perfect opportunity to put people to work in the Northern Cape.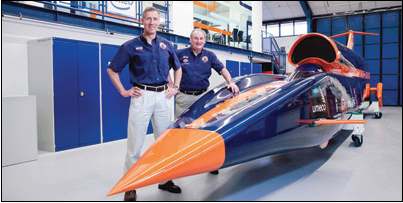 As part of the Expanded Public Works Programme (EPWP) the Northern Cape Department of Roads and Public Works has hired 317 people to clear the site on which British duo Richard Noble and Andy Green will race their car. Noble, an engineer and adventurer, has always dreamt of setting a world land-speed record. After realising this dream almost 29 years ago, Noble along with daredevil driver Green, is now on a mission to break their own record. Noble reached his record of 1 019km/h driving a turbo-powered car named Thrust2 across the Nevada desert, in the US, in 1983. In 1997, he built an improved car called ThrustSSC and managed to beat his previous record by reaching an impressive 1 228km/h. This remains the current world land-speed record but Noble and Green are now aiming to better it by reaching 1 609km/h. They are currently working on improving the car, which will be a blend of a race car and a jet fighter plane using spaceship technology. With two engines installed, the supersonic car, once completed, will have the same power as 180 Formula One cars.
During its first test in the United Kingdom last October, the deafening sound of the car roared to that of five Boeing 747 planes taking off at the same time.
Finding a site to attempt the new record in 2016 was no easy task and after an extensive worldwide search using spaceshuttle radar data and satellite imagery, the team finally found the perfect spot - Hakskeenpan in the Northern Cape.
Hakskeenpan, situated 200km from Upington, is 16km long and flat and firm enough to support the car. Green, who is also a Royal Air Force pilot, will be the driving force behind the supersonic car.
To ensure the site is cleared and ready on time, the department of Roads and Public Works created work opportunities for unemployed community members from the neighbouring villages of Klein Mier, Groot Mier, Phialndersbron, Loubos and Rietfontein. The workers will clear the site of stones, pebbles and debris.
For Hendrik Kortman, this is the first time he has been employed in years. Kortman, who lost his legs in an accident a few years ago, does not let his disability get him down. Equipped with a spade and bucket he clears the track of cobbles and pebbles. With no family to help support him, Kortman says the money he earns will help him buy clothes and food.
"This job has given me hope. Government has given me the chance to have a better life," he says.
The department has invested almost R7.5 million providing work opportunities for various communities, while at the same time creating the world's best land-speed track.
"A bulldozer would have done this job within a short period of time but we deliberately chose to make it an EPWP project so that we could create job opportunities for our local communities," said Northern Cape Roads and Public Works MEC Dawid Rooi.