Written by South African Police Service
The South African Police Service (SAPS) has taken another step towards professionalising policing by establishing a university for cops.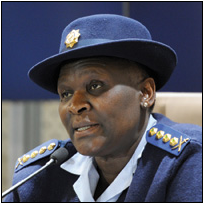 The SAPS University is being set up through a partnership between police and the University of South Africa (UNISA) after the two bodies recently signed agreements.
The agreements marked the first phase of setting up a police university, said National Police Commissioner General Riah Phiyega.
"The second phase, which will start early in 2014, will involve welcoming the first 120 police learners at the SAPS Academy in Paarl to start their studies towards a Bachelor of Policing Degree," said General Phiyega.
She said the curriculum for this degree was already in place at UNISA and over time the curriculum for the full-time course could be tailored to suit SAPS' developing needs.
The university is expected to play a role in transforming SAPS into a professional body with employees of integrity who will ensure a safer South Africa.
"By establishing our own university, where learners will wear their police uniforms during class and drill will be part of the curriculum, we will be combining academic studies with a culture of discipline, honesty and professionalism.
"By doing this we will be able to build future leaders for the police and establish a pool of excellence from which commanders can be selected in future to lead the organisation with integrity and loyalty." She said prospective students would be chosen from members who have met a strict set of criteria.
"Their progression through the course will be carefully managed to ensure that only those whose values and morals are of the highest standard – and whose academic achievements are also up to expected set standard – graduate."
General Phiyega said the aim was for the institution to become internationally respected.
"We want to attract police learners from the Southern African region, the African continent and other countries.
We also want to see an exchange of students so that our learners will also have the opportunity of studying policing in other countries." The SAPS University will, to an extent, be modelled on the South African National Defence Force's Military Academy in Saldanha Bay, which has been in existence for over 50 years, she said.