Written by Samona Murugan
Engineer Richard Noble and RAF pilot Andy Green have taken their passion for racing a step further by creating the Bloodhound Project- a global education initiative.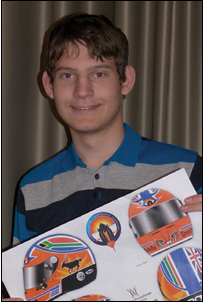 The project promotes the exciting use of technology, engineering and mathematics at schools and aims to inspire a future generation of engineers and technologists.
The Bloodhound Project has been introduced at over 5 000 schools in the United Kingdom (UK) with leaners being taught the fundamentals of combining engineering with science and technology.
Fifty schools in the Northern Cape have also introduced the Bloodhound Project into their classrooms and learners were given a chance to design the helmet that Green will sport while attempting to beat the world land-speed record.
Green will need two helmets for his attempt and 17-year-old Dirk Coetzee, from Adamantia High School in Kimberley, scooped the South African winning design.
The rules for the design were simple, says Green. All learners had to do was design a colourful helmet in the Bloodhound colours - orange and blue. From more than 1 000 entries, Coetzee's bold design stood out.
"I love the bold and exciting South African theme of Dirk's design, and the big sunrise and gemsbok adding a Northern Cape element," said Green.
"It is a proudly South African design. It is perfect!" The other winning helmet came from 11-year-old Sam James from the UK.