Residents of Mkhuze in KwaZulu-Natal no longer have to spend R100 for a single 45km trip to Vryheid to visit the police station, Home Affairs office or buy groceries.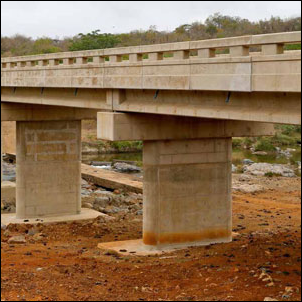 With the new Mkhuze River Bridge built in their area, the town of Louwsberg, which is about 20km away, is now more accessible.
"Things were very difficult for us because there was no direct road connecting us to Louwsberg which meant no direct transportation to that area.
"When we needed basic government services we had to take two taxis to get to Vryheid," said Councillor Alson Nkosi of Ward 3, where the Mkhuze River Bridge is situated.
Children can now travel to school, which is across the river, hassle free. In the past they struggled to cross the river, especially when it was full, Nkosi added.
Nkosi said with the new bridge, the community would only spend between R30 and R40 for a return trip to visit Louwsberg.
Speaking at the official opening of the bridge, KwaZulu-Natal Transport MEC Willies Mchunu said his department was making it easier for citizens to connect with each other, and more importantly, access government services.
"It has been a long time since the communities of this area were able to connect with one another. We see this as a step in the right direction," he said.
The bridge was built as part of the Mbhudula Road Project, which is aimed at connecting communities. MEC Mchunu said the bridge was built at the same time as the 11.5km D579 road and other small bridges in neighbouring areas, costing the department R58.3 million.
Last phase
"Many may remember that we started this programme in 2008 and each year we were surfacing a certain number of kilometres. We are currently on the last phase and have about 2.5km left of the road to build."
MEC Mchunu said other projects included building access roads in the Baqulusi Municipality, which Mkhuze falls under. The access roads will cost R5.1 million.
He appealed to community members to continue working together with government.
"We are working very hard to eradicate poverty and if the money collected from taxes is not spent adequately on poor communities we would have failed the people of South Africa."