Written by Samona Murugan
The Western Cape's tourism and hospitality industry has received a major boost with 300 graduates completing the Tourism Ambassador Programme.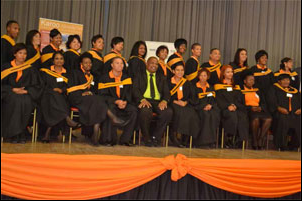 The programme, which targets unemployed youth in the province, trains and skills youngsters in the hospitality and tourism industry. It also provides work exposure for those who have never been employed.
Funded by the provincial Department of Tourism, the R15 million programme is also an Expanded Public Works Programme (EPWP).
During the year-long programme 350 tourism ambassadors from Eden, Central Karoo and Cape Town were placed in hotels and establishments across the province and trained in accommodation service, food and beverage services, housekeeping, table attending and customer care.
Three-hundred successfully completed their training and graduated. Ninety-five were employed full-time by their host hotels.
Ahmed Davids, 20, from Pontville in Cape Town, was one of those employed. He matriculated from the Dominican Grimley School for the Hearing Impaired and decided to pursue a career in business studies. But he then found about the programme through a friend, applied and was chosen to be part of it.
"I had never thought of a career in the hospitality industry previously but I decided to give it a try."
Davids was trained in housekeeping before becoming a porter. He has now been employed as a full-time receptionist at the Brightwater Lodge situated in one of the city's major tourists attractions, Hout Bay.
"Learning these skills has opened up a world of possibilities for me," says Davids.
"The greatest part of my job is being exposed to local and international guests who do not see colour. All they see is a person's nature and service with a smile - that really boosted my development and made me realise that the sky is my limit." Solile Malusi, 25, who also completed the programme, is now a proud employee at the Park Inn in Cape Town.
"I have learnt a lot and continue to learn every day. I am very grateful for the opportunity to be a part of such a great programme," he said.
Malusi, who is completing a tourism degree at the Cape Town University of Technology while working, has ambitions of rising up the ranks in the tourism and hospitality industry.