South Africa is a much safer place than it was 20 years ago with police working hard to reduce crime and the justice system keeping criminals behind bars.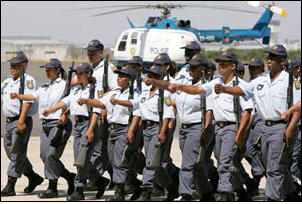 As the country celebrates 20 Years of Freedom, one of the democratic South Africa's success stories is progress in the fight against crime.
Much of this success is down to good work by the Justice, Crime Prevention and Security Cluster (JCPS), which includes the South African Police Service, State Security, Home Affairs and Justice and Constitutional Development. Justice Minister Jeff Radebe recently reflected on the accomplishments of this cluster, noting that its aim was a safe society.
There had been significant decrease – just under 40 per cent - in contact crimes such as rape, murder and assault between 2004 and 2012, he said.
The cluster was also working hard to tackle sexual offences with the establishment of Thuthuzela Care Centres (TCC) across the country.
TCCs are one-stop facilities to reduce secondary trauma for the victim, improve conviction rates and cut the time taken to finalise cases.
The centres offer rape victims care, treatment and support, including anti-retroviral drugs to reduce the risk of HIV infection, treatment of sexually transmitted infections, prevention of unwanted pregnancy and counselling.
At the moment, there are 35 fully functional TCCs, while centres at a further 16 sites are open but offering limited services.
The conviction rate in the prosecution of sexual offences reported at TCCs for the second quarter of last year was 65.8 per cent, which is an improvement of 5.2 per cent compared to 2012.
Sexual Offences Courts
In August last year the Sexual Offences Courts were re-launched.
Fifty-seven Sexual Offences Courts are now operational and another 22 are expected to be re-established.
Minister Radebe said the fight against corruption had been also stepped up, resulting in a number of arrests. In total 522 incidents of serious corruption were recorded by the end June 2013.
About 791 people are currently under criminal, financial or forensic investigation. By the end of September last year, 228 people had been successfully convicted for corruption related crimes.
SANDF
The South African Defence Force (SANDF) is also playing a role in ensuring the safety of South Africans by patrolling country's borders.
Last year 2 469 SANDF members were deployed to Limpopo, Mpumalanga, KwaZulu- Natal, Free State, Eastern Cape, Northern Cape and North West to patrol the borders these provinces share with neighbouring countries.
The SANDF apprehended 600 undocumented people, the majority of whom were arrested along the border between South Africa and Zimbabwe. The SANDF also confiscated illegal imports to the value of about R1.2 million at the South Africa and Zimbabwe border. The total amount of illegal imports confiscated at all the country's borders was valued at about R1.7 million.
The Department of Justice was also making progress in making sure criminals paid for their crimes.
Conviction rates
The Minister said when it came to conviction rates, courts at all levels performed better than the targets set for quarters one and two of the 2013/14 financial year.
The High Courts' target was 87 per cent and performance stood at 88.1 per cent while the Regional Courts' target was 74 per cent and their performance was 75.3 per cent.
District Courts were set a target of 87 per cent and the achievement was an exceptional 96.6 per cent conviction rate.
Minister Radebe acknowledged the backlogs within the justice system that stood at 26 233 by the end of September 2013.
"The total backlog cases at the end of September 2013 for all courts stood at new record low of only 26 233 cases, which is 24.7 per cent better than the target set for the end of quarter two of 32 117." He added that progress was being made in transforming the judiciary.
"We have made significant strides... Today 61 per cent of judges are black compared to only one black [judge] in 1994. Similar progress has been made in addressing race and gender imbalances in the magistracy. Of the 1661 magistrates, 974 are black and 687 are white, 647 are women and 1014 are men."
Infrastructure has also been improved with 43 courts built since 1994.
"Besides the 43 new courts, we have revamped and equipped a further 24 Branch Courts and elevated them into proper courts. The outstanding 65 Branch Courts and 230 Periodical Courts have been lined-up for rehabilitation consistent with the National Development Plan," said the Minister during his Budget Vote.
He added that the Limpopo High Court will be completed by June this year and the construction of the Mpumalanga High Court is expected to begin in July.
Over the next three years six new courts are due to be built.