Elias Mhlongo is proof that with hard work, dedication and discipline you can rise above your circumstances.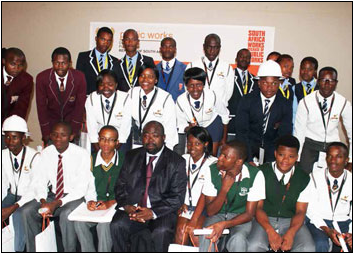 The 18-year-old, who attended Soshanguve South Secondary School, near Pretoria, not only passed his matric exams with flying colours but also secured a bursary worth R180 000 from the Department of Public Works.
Mhlongo said the school year was demanding and he had to make a lot of sacrifices to achieve his outstanding results. Sharing a RDP house with his mother, two unemployed sisters and a brother proved challenging when it came to studying.
"It wasn't easy but I knew that if I worked hard and stayed focused I would achieve good results. I got five distinctions – physical science (94 per cent), life science (92 per cent), geography (92 per cent), mathematics (84 per cent) and Sepedi home language (82 per cent) – 76 per cent for English and 67 per cent for life orientation." He plans to study electrical engineering at the University of the Witwatersrand.
Mhlongo was one of the 50 bursary recipients (28 males and 22 females) chosen from 15 schools that are part of the Department of Public Works Schools Programme. The programme promotes the teaching of maths and science and encourages learners to take studies in built environment professions.
Bursary recipients were chosen based on their matric results.
Public Works Minister Thulas Nxesi hoped to see more females being awarded bursaries in the future.
"In a male-dominated set of professions this might be seen as a good start but next year we want to see at least 50 per cent females," said the Minister.
The department plans to expand the programme to other schools.
"The plan is to include schools from all regions in 2014 and later to extend the programme to the Albert Pule provincial departments... and ensure the inclusion of more deep rural schools from across the country," said Minister Nxesi.
The department adopted the schools in the pilot programme from the five regional offices in Polokwane, Mmabatho, Kimberly, Mthatha, Port Elizabeth and the head office (Pretoria).
Full bursaries were awarded to 50 learners from the 2013 matric class, who will study towards careers in the built environment. The bursaries are part of government's efforts to build a skilled and capable workforce.
Each bursary is valued at R120 000 and will cover tuition, residential fees including meals, textbooks, academic projects and includes monthly allowance. The Construction Education and Training Authority will provide an additional R60 000.