Written by Noluthando Mkhize
If you have a funeral policy or are considering investing in one, make sure you equip yourself with all the necessary information to get value for money.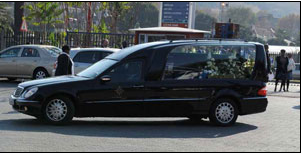 This is the advice from the Long-term Insurance Ombudsman, which deals with issues related to funeral policies.
Deputy ombudsman Jennifer Preiss says it is important to know the name of the company you have a funeral policy with as well as the one underwriting the policy, and not just the name of the salesperson, administrator or funeral society.
"There are scams and illegal operators around. It is important to deal with trustworthy organisations and not to be rushed into a decision to buy a policy," she warned.
It is also vital to have the contact details of the insurance company, funeral society and administrator, which you will need if there is a problem with the policy or need to claim.
Preiss said you should never sign a blank document and always check that the person selling you the policy is licensed by the Financial Services Board.
"Policyholders must receive an original policy document, booklet or membership certificate. All the details must clearly set out, including the details of the actual cover and parties covered. The policyholders must check whether stepchildren, common-law spouses are covered where such cover is needed."
When you receive the policy document check that all the information is correct. If the information is not correct, contact the insurance company immediately.
All documents must be kept in a safe place and tell family members, who may become claimants, where this is.
Preiss said you should make sure you clearly understand what the premium is per month, how you will pay it, when it will be deducted and that policy could lapse if the premium is not paid.
"There is a grace period for paying premiums, usually of 30 days but it can also be 15 days."
Don¹t forget to keep proof of payment such as receipts, along with written proof of interaction with the salesperson.
You should also find out about any special conditions of the policy such as waiting periods, exclusions and the time period for claiming benefits.
Preiss advised that if you have problems paying for the policy you should contact the insurance company as some policies allow for a few premiums to be skipped.
If you are having trouble claiming from an insurance company, read the policy and check if what you are claiming is covered.
"If it is covered you should complain to the insurer about the non-payment of the claim. If that does not produce a satisfactory response you can complain to the Ombudsman for Long-term Insurance," she added.
The ombudsman¹s services are free of charge.
What to ask about funeral cover:
Will my premiums increase? If so, will my cover increase?
Is there any savings element?
Can I end up paying more in premiums than the actual cover?
What happens if I get divorced? Will my nominated spouse still be covered?
Some funeral societies cover a funeral if they arrange it themselves ­ you need to be aware of this. You have the right to a cash payment instead of a funeral service.
Will my cover end at a particular age?
Will cover for my dependents carry on after my death?
If you have complaints, contact the Ombudsman for Long-term Insurance on 021 657 5000 or 086 0103 236.