South Africa once again cemented its position as a great host of world class sporting events.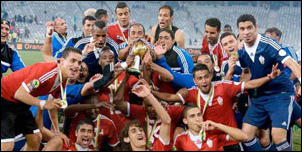 It was proven that South Africa is capable of successfully hosting mega events by pulling off a memorable CHAN 2014 tournament without any incident.
After 32 matches were played at the world class facilities used during the 2010 FIFA World Cup, Libya emerged as the champions of Africa.
Thousands of people flocked to South Africa, to watch the soccer while also visiting various tourist destinations across the country.
It was the third major African soccer tournament that South Africa hosted, proving the country's capability to stage mega events of this nature.
On the field, Libya defeated Ghana 4-3 on penalties to win the after both teams failed to score in the regulation 90 minutes and extra time.
Libya scored the first three penalties and almost threw the game away when Ghana came back to level the scoring.
Unlike in their quarterfinal match against Zimbabwe, Libya created more goal scoring opportunities but they failed to punish their opponents.
Ghana were also looking dangerous on the counterattack but also failed to get a goal, making the first 45 minutes more balanced as the two teams went to the half-time break without a goal.
In the second half, Ghana did not waste time in putting their opponents under pressure, but they continued to squander their chances.
Substitute Yahaya Mohammed, who replaced the injured Sulley Mohammed, tried to get a goal for Ghana, but the solid defence of the North Africans kept him at bay.
Libya came back attacking their opponents and they should have been rewarded in the 94th minute when Abdelsalam Omar's header missed the top corner.
In the first minute of the second half of extra time, Libya was lucky when Abdul Mohammed's weak shot - which had already left the goalkeeper stranded - went just wide off the post.
Two minutes later, the North Africans got an opportunity when Omar's header, who was unmarked inside the box, was easily stopped by Ghana's goalkeeper Stephens Adams.
The Black Stars of Ghana came to the match as favourites following their good record, which saw them conceding only one goal in five matches in the CHAN tournament. The two sides met earlier in the group stages in Bloemfontein and played to a 1-1 draw.
As the new CHAN champions, Libya pocketed R8.4 million, while the runner-up will leave with R4.4 million, while Nigeria and Zimbabwe each received R2.8 million.