Young people from the rural community of Mvezo can now dream of becoming scientists and engineers, with a high school on their doorstep to help achieve that dream.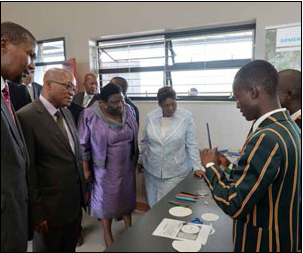 The R100-million state-of-the-art Mandela School of Science and Technology was recently opened in the Eastern Cape village of Mvezo - the birthplace of former President Nelson Mandela.
The school is a tribute to Madiba and is the only high school in the area.
"This is a realisation of Madiba's dream. It is the legacy of Madiba and it means the children and teachers should work to preserve and continue with it," said President Jacob Zuma, who handed over the school to the Mvezo community recently.
In 2010, former President Mandela expressed his desire for a high school to be built in Mvezo to Peter Löscher, former Chief Executive of Siemens.
A partnership between Siemens, the Mvezo Development Trust and the Department of Basic Education realised this dream. Siemens covered all the costs associated with the construction and initial operations of the school.
The school has 25 standard classrooms and three laboratories (science, biology and agricultural), a resource centre, which has two computer laboratories, and an engineering design laboratory.
Other facilities include a library, school hall, administration building, ablution facilities, renewable energy (wind and solar), complete electrical infrastructure including an emergency standby generator, water infrastructure – borehole water supply, water pumps, tanks and water filtration systems - an intercom system and CCTV security system.
The school currently has 463 learners from Grades 8 to 10. Grade 11 will be incorporated in 2015 and by 2016, 700 learners will be enrolled from Grade 8-12.
"This school is inspired by uNkosi Dalibhunga Rolihlahla Mandela through his emphasis on education," said Madiba's grandson, Nkosi Zwelivelile Mandla Mandela. He said that many children dropped out after Grade 7 because there was no high school in the area and this contributed to teenage pregnancy and other social skills.
The community of Mvezo benefited during the construction of the school with about 150 people employed by the project. People were trained in bricklaying, plastering, carpentry, plumbing and construction.
Chief Executive Officer of Siemens Sigmar Proebst said the school was a weapon for the future and hoped it would produce scientists and engineers who would contribute to the economy.
"The school is much better compared to other schools in rural areas and what I like most is that the discipline is entrenched," said Sihle Phaliso, one of the learners of the school.
*Ndyebo Kopo works for GCIS in the Eastern Cape.