Government is working flat-out to ensure that no South African is left without water and to maintain the country's proud record of bringing safe, drinkable water to 95 per cent of citizens.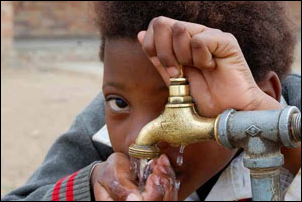 In 1994, just 59 per cent of South Africans had access to safe, drinkable water – way below today's 95,2 per cent, even though South Africa is one of the 30 driest countries in the world.
Speaking late last year at the launch of the Spring Grove Dam in KwaZulu-Natal, President Jacob Zuma declared: "Water is a basic necessity and a basic human right.
"This is why this government prioritises the provision of water throughout the country to our people, especially to the poor who have been marginalised by successive apartheid regimes."
President Zuma said that as part of the national infrastructure plan, government was building dams, bridges and roads; upgrading schools, hospitals, ports and airports, and was building power stations for more electricity.
"It is an exciting programme, which is changing the face of the country," the President said.
When Water Affairs Minister Edna Molewa shared her plans for 2013/14 with Parliament last year, she included examples such as the R 186 million water supply project in the Maphumulo area of the Ilembe District, KwaZulu- Natal, benefiting 150 000 people.
In the Ugu District, also in KZN, a further 100 000 people benefited from Mhlabatshane water scheme. The Minister also said a new R134 million project, the Richmond Pipeline, would provide water to 200 000 people.
In the North West, work has begun on the R1.2 billion Pilanesberg scheme is being implemented.
This project, developed in partnership with the mines, will provide a further 100 mega litres of water per day for the benefit of local municipalities and mines. At least 700 direct jobs will be created and 6000 indirect permanent jobs through new mining developments.
In the Free State, R156 million will be invested in two new pipeline projects providing additional water to Botshabelo and Thaba Nchu municipalities and the Mangaung Metro.
Government recently announced that it is sending technical teams, consisting of engineers, technicians and artisans, to check water systems in areas where communities have complained of water shortages.
An amount of R500 million has been set aside to repair or upgrade water systems and stop interruptions in water supply.
In areas like Madibeng in Brits, the national department has installed new pumps in the treatment plan and has fully restored the functionality of the system.
Working with Eskom, Water Affairs officials are checking various communities for leaks that can be fixed.
At the same time, government has repeatedly called on South Africans to treat water as something precious and to make sure that not a single drop is wasted or polluted.
With South Africa changing for the better every day, government is keen that development and delivery must succeed and that problems must be identified and sorted.
However, government also calls on communities to raise their problems peacefully and to work with government to help solve them.