Primary school girls will from this year be immunised against the Human Papilloma Virus (HPV), which causes cervical cancer.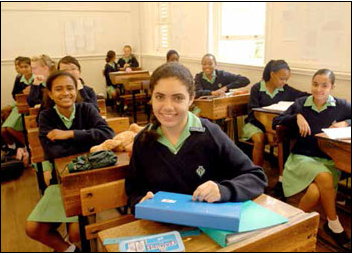 President Jacob Zuma made the announcement at the launch of Ngidini Primary School in Libode in the Eastern Cape recently. He said government would target girls between nine and 12 years of age, through the Integrated School Health Programme.
"The Departments of Basic Education and Health will work closely together in this national programme to protect our girls from this disease.
"Vaccination teams from the Department of Health will visit schools twice a year to ensure that each girl-child receives two doses of the HPV vaccine. We urge parents to cooperate with us and help us succeed in fighting cervical cancer," said President Zuma.
Cancer of the cervix is the most common cancer diagnosed in women in South Africa. Estimates indicate that there are 16 million women over the age of 15 who are at risk of cervical cancer.
There are more than 5 000 cases per year in South Africa, with around 3 000 deaths from this cancer and black women carry the heaviest burden of the disease.
"The introduction of the HPV vaccine is a significant public health milestone for South Africa. It will significantly contribute to the control of the cancer and reduce associated deaths within the next two to three decades," said the President.
The Cancer Association of South Africa (CANSA) said it supported government's immunisation initiative and called on the private sector to work with government by reducing the price of immunisation.
"CANSA is in favour of vaccinating all young girls against HPV and calls on the manufacturers to reduce the price or subsidise the price for use in developing countries," said the association.