Women's Month
Fortunate Mdanda is a businesswoman who is determined to succeed. As the owner of Smith Capital Equipment, she is one of a few women who are making it in a male-dominated industry.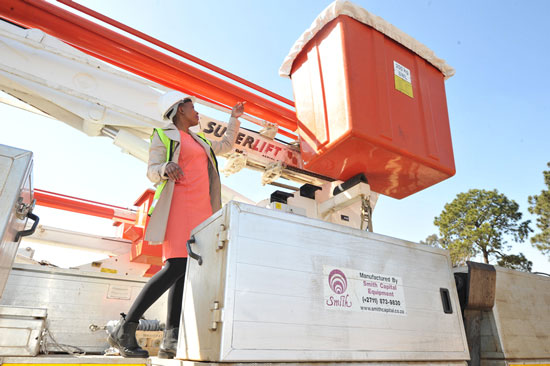 In November 2015 she and her husband bought Smith Capital Equipment, a business with over 30 years' experience in the equipment industry.
Smith Capital Equipment is the only company in Africa that designs and manufactures aerial platforms. It manufactures platforms, supplies truck-mounted cranes and drilling rigs and exports its equipment to countries across the African continent.
The acquisition of the company resulted in the birth of Smith Capital, an African company. It's owned, managed and operated by Africans.
"We are a BEE level 2, majority black- and women-owned and operated business, with effect from November 2015," said Mdanda.
The company has created 76 permanent jobs, 12 of which are held by women. This is a figure would like to see increase.
"We would like the figure to improve and we've got plans to take in mostly young women, who will get in-service training and internships."
Mdanda was granted a loan of R41 million by the National Empowerment Fund (NEF), which she must pay back in five years.
"We have been working tirelessly to change the culture of Smith Capital employees. The culture we are infusing is that of accountability, responsibility, ownership and corporate entrepreneurship."
The products are locally designed and manufactured and the company's biggest clients are Eskom, mines, municipalities and countries, mostly from the African continent and South America. The company also maintains and repairs Eskom units.
"We specialise in two types of aerial platforms, one is an insulated aerial platform.
"Those are the platforms that are used when people are working on a live line, so that they do not switch the power off."
The platforms differ in height and are between 60 and 110 metres in size, the highest of which is imported from Finland.
Mdanda is a qualified accountant with a BCom Accounting Degree from the University of South Africa, an Honours Degree in BCom Accounting and an MBA from Unisa.
She has worked at various companies and government organisations, including the Auditor-General of South Africa, South African Airways, Pfizer, City Power and Alexander Forbes.
Mdanda encourages women not be scared to venture into male-dominated spaces, but to rather roll up their sleeves and change their circumstances.