Women's Month
Hard work and dedication were the only ingredients needed for Busi Lubanyana (51) to become a successful businesswoman.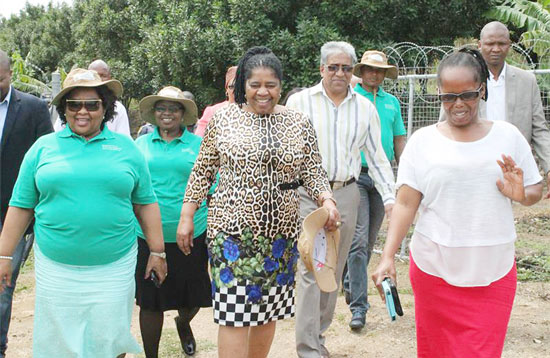 Lubanyana is the owner of BBS farm, situated inland of Southport, in KwaZulu-Natal (KZN), which produces tomatoes, green peppers, bananas and macadamia nuts.
When Lubanyana started her farm, she wanted to help her community to get vegetables easily, but her business grew and the place where she was cultivating became too small.
"I planted vegetables because I like vegetables and I wanted people to eat healthy food," she said.
Lubanyana approached the KZN Department of Agriculture and Rural Development for help, to get more land for farming. In 2009, the department gave her more land and she has not looked back since.
The farm has grown from a subsistence to a commercial enterprise, with international clients. It exports macadamia nuts to the United States, Europe and the Far East and also supplies Boxer and Spar retail stores with tomatoes and green peppers.
In 2010, Lubanyana entered the Female Entrepreneur Awards in the commercial category and came second. She invested her prize money in her farm, this time to grow macadamia nuts. The Agribusiness Development Agency (ADA) assisted with infrastructure.
"All my efforts didn't go to waste because today I am the first black female farmer from KZN and the Ugu District to supply macadamias to the export market," she said.
Lubanyana employs 25 permanent and 10 seasonal staff members. Most of them are women.
Lubanyana told Vuk'uzenzele that getting into the export market was not easy. "It takes hard work, passion, sacrifice and dedication. It took me six years to graduate from a subsistence producer to a qualified export farmer who meets all the requirements and standards," she said. 
Lubanyana explained that being a vegetable farmer has its challenges. "Vegetables are not popular with many farmers because the weather needs to be perfect. It must not be too cold or hot. However, entering competitions has helped me because if I don't get a good harvest, I am sustained by my winnings," she said.
The successful farmer received training and support from the department and the ADA. She was trained through the Perishable Product Export Board Council in financial management, agribusiness and marketing, which enabled her to move into the commercial sector.