Written by *Kabelo Ledwaba
Women's Month
If Nhlupheheng Tsotetsi had the funds to study at the university when she wanted to, her life would probably have turned out very differently and she would have missed out on an exciting career in aviation.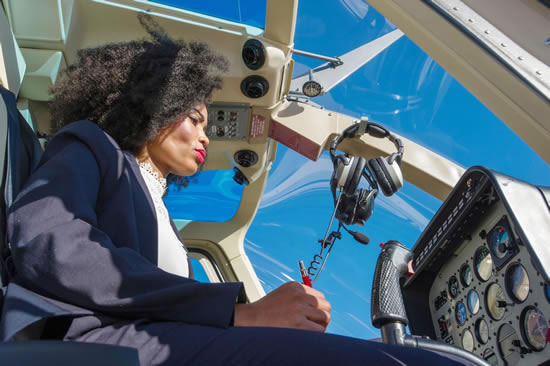 "I didn't see it that way then, but it turned out that not having money to further my studies at university was the best thing that happened to me, because today I am part of the dynamic world of aviation and enjoying every minute of it," said the 39-year-old, who is an airworthiness safety inspector at the South African Civil Aviation Authority (SACAA).
Tsotetsi grew up in Daveyton, a township in Gauteng's Ekurhuleni Metropolitan Municipality and after matric, she wanted to study for a BSc in Microbiology and Biotechnology at the University of Witwatersrand. However, due to financial difficulties, she could not do so.
She eventually enrolled at Ekurhuleni East College where she graduated with a National Diploma in Electrical Engineering. After graduating she could not get a job. A friend told her about an apprenticeship programme offered by state-owned Denel Aviation. She applied and her application was successful, and the rest is history.
After two years of study towards an Aircraft Trade Certificate, Tsotetsi graduated in 2002 as a qualified aircraft avionician. According to Denel Technical Academy, Aircraft Avionician training incorporates all three existing aircraft avionic-related trades namely: aircraft electrician, aircraft radiotrician and aircraft instrument mechanic.
In 2004 she joined the SACAA Aircraft Certification department as an airworthiness safety inspector focused on manufacturing of aeronautical products. Tsotetsi and her team are responsible for the administration and enforcement of civil aviation safety regulations and standards related to the modification of aircraft as well as the manufacturing of aviation components and parts.
"This simply means that if you intend manufacturing new aircraft and/or aircraft components and parts, you have to first comply with certain requirements as outlined in civil aviation regulations," she explained.
Tsotetsi urges women and young South Africans to consider a career in aviation; adding that there are bout 40 different career fields in aviation.
"As much as there are women in the aviation industry, their number compared to those of males is low. Those that are keen on pursuing careers in aviation should ideally study pure Mathematics and Science in school.
This should be followed by aviation-specific training and qualification. To join the SACAA as an aviation inspector one is also required to have specialised training coupled with the relevant experience." Tsotetsi's message to young women interested in aviation is simple.
"You must have self-confidence and be prepared to work hard. Keep knocking on as many doors as possible for opportunities after all, in aviation the sky is not the limit, it is in most cases someone's office."
Tsotetsi is currently studying towards a B-Tech Degree in Electronic Engineering. She also intends to train as a helicopter pilot in the near future.
*Kabelo Ledwaba works for the South African Civil Aviation Authority.