Written by Bathandwa Mbola
International relations
President Zuma concluded his state visit to France, which served to advance relations between the two countries, on a high note.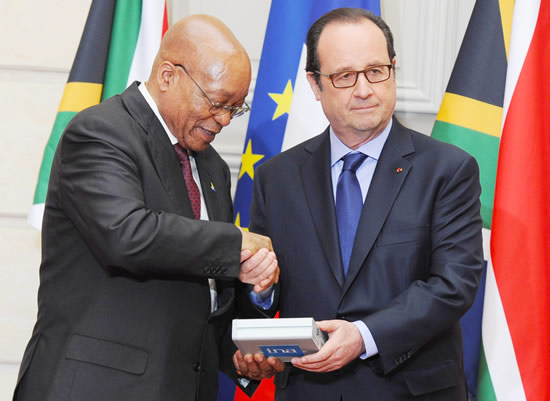 President Zuma held talks with his French counterpart, President François Hollande.
Agreements were signed during the visit to deepen cooperation between the two countries in the fields of energy, agriculture, higher education and training, as well as arts and culture. Both countries welcomed the implementation of the 2015 Alstom Gibela-Prasa contract for the supply of rolling stock, which will create more than 30 000 industrial jobs and stimulate localisation in the field of rail transport. 
The two countries also signed the renewed Partnership Framework Document on development cooperation for the period 2016-2019, which makes provision for collaboration in the promotion of national priorities.
President Zuma also met French CEOs and addressed the South Africa-France Business Forum.
In the meeting, President Zuma urged the private sector to explore investment opportunities in South Africa.
Two-way trade currently stands at R33 billion in favour of France. There are about 350 French companies doing business in the country, while only 30 South African businesses are operating in France.
The President also officiated the centenary commemoration of the Battle of Delville Wood in Somme, France, an event that ended 100 years of the marginalisation of black soldiers who died in the First World War. Government has built a memorial in France that recognises all soldiers regardless of race.
The battle at Delville Wood occurred when the South African Brigade was deployed to Somme, an area along the French-Belgium border, in 1916.
The Battle of Delville Wood went down in the history of the First World War as an example of supreme sacrifice and heroism and remained the most costly action the South African Brigade fought on the Western Front.
President Zuma said the centenary commemoration was of special significance to all South Africans.
During the visit President Zuma also received the digitised Rivonia Trial dictabelts from President Hollande.
The deteriorating audio recordings of the 1963-1964 court case were restored by France's National Audiovisual Institute (INA).