Written by Thandeka Ngobese
KwaZulu-Natal municipalities are benefiting from government's Small Town Rehabilitation Programme.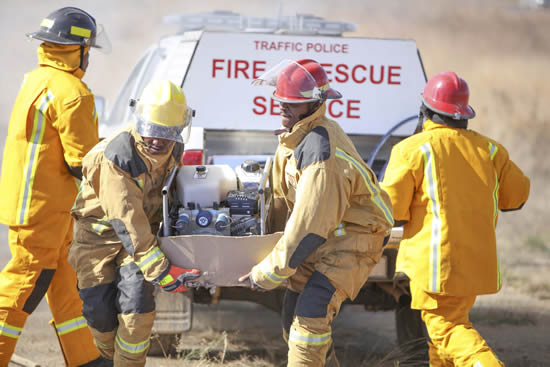 Government's investment in ensuring that rural communities have access to services has resulted in a disaster management centre and a licence testing centre for the town of Bergville.
The Small Town Rehabilitation Programme has benefited several municipalities including that of Ukhahlamba in KwaZulu-Natal. Bergville is part of this municipality.
The Department of Co-operative Governance and Traditional Affairs (CoGTA) has spent more than R7 million on the rehabilitation of Bergville.
The MEC for CoGTA Nomusa Dube-Ncube, together with newly appointed MEC for Transport and Community Safety Mxolisi Kaunda, recently launched these developments.
MEC Dube-Ncube said the main objective of the Small Town Rehabilitation Programme was to grow the economy in rural areas and create a safe and clean environment that will result in investment retention, attraction and expansion.
"In the process, short-term jobs are created through the infrastructure upgrades while more sustainable jobs are created through the private sector investment likely to be attracted". More than 40 youth from Ukhahlamba Municipality were trained to be fire fighters. "All of them got permanent employment during the opening of this disaster management centre. Security personnel, cleaners were also hired. This Municipality used to rely on fire-fighters coming from the Ladysmith/uMnambithi municipality. This often meant that tourists' and residents' safety was not always at the highest of levels, said Dube-Ncube.
MEC Kaunda also views the launch as a significant milestone.
"The community will now save on having to travel to Ladysmith, to get access to these services, said MEC Kaunda.
Inkosi Menzi Hlongwane of the AmaNgwane Tribal Authority said they are happy about the development.
"This really shows that our government is committed to developing rural areas. We never thought that here in Bergville we would ever have a fire station not to mention a testing centre," he said.
One of the fire-fighters Nompumelelo Mhlungu said when she heard of the learnership she was very reluctant to apply, thinking that they would not consider her application.
"It is an incorrect statement that in order to get a job from government you need to have a connection. I didn't have a connection. I heard about the opportunity and I applied and then I was taken. Government really gives equally opportunity to every South African," she said.
 Ukhahlamba Local Municipality Mayor Thulani Sibeko said this development is going to save a lot of money for those who want to get a driver's licence.
"People around here used to go to Estcourt or Ladysmith but now they will use this facility which is nearest to their homes".