written by Zusiphe Mtirara
Police Minister Nkosinathi Nhleko says the South African Police Service (SAPS) will be rolling out 15 mobile police stations to far-flung townships and rural areas around the country.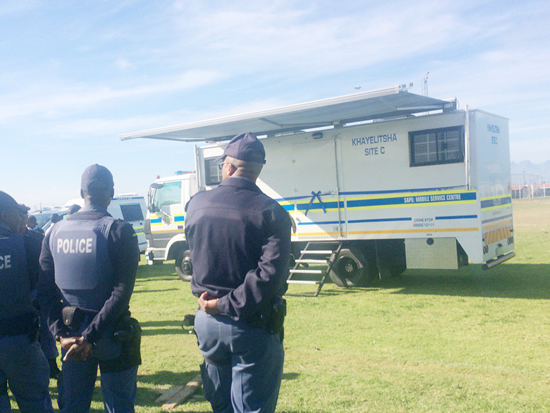 Six of them are expected to be located in the Western Cape.
The Minister made the announcement when he handed over a mobile police station to Khayelitsha residents at an Imbizo recently. 
"We understand the demand for more police in the rural towns and townships, but due to resource constraints to respond to these demands effectively, rolling out mobile units is the best solution at the moment," said the Minister.
"We need to combine efforts in taking down gangsterism in the Western Cape. Safety cannot only be brought by the police, more departments are involved in ensuring safety in our communities," he said.
The Minister said issues like street lighting, adequate roads and town planning – which would make it easier for police officers to patrol communities - were functions that belonged to other departments.
Ndithini Tyhido, chairperson of the Khayelitsha Development Forum, agreed that adequate infrastructure such as proper house addresses and lighting would improve the effectiveness of policing in the area.
He said crime in Khayelitsha was rife but that the new mobile police station meant residents would be able to access police services much faster.
Nomatha Velebhayi, a resident in Site C, said she was pleased with the new mobile unit as it would speed up the response rate of police to the community's calls.
"Crime in Site C is unspeakable but I am relieved now that they have brought the police closer to us."
She said the residents can also make a difference by reporting perpetrators which live in the community.