Written by Chris Bathembu
Youth matters
Government is working towards ensuring that environmental awareness forms part of and is central to all teaching material at schools.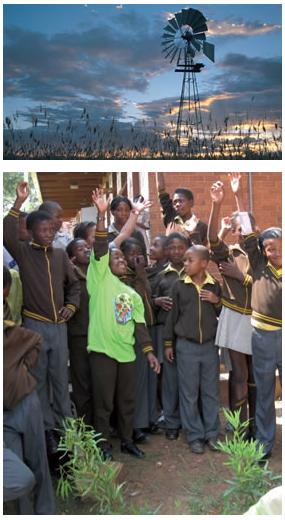 With the problem of climate change now becoming more serious, the South African government is taking environmental awareness to the youth. Basic Education Deputy Minister Enver Surty said officials were working towards ensuring that environment awareness formed part of and is central to all teaching material at schools.
He was addressing delegates at the third annual Youth Water Summit organised by the Department of Water Affairs in Johannesburg last month.
The summit was introduced three years ago and is used as a platform to educate learners about the impacts of climate change. Since it was started, it has launched awareness programmes in rural schools across the country. 
COP17 congress
With South Africa hosting the 17th United Nations Congress of Parties (COP 17) on climate change in a few months time, the Water Summit gave the floor to young citizens from all nine provinces and several other countries to share and discuss water and the need to take better care of the environment.
The COP 17 conference will be held in Durban in December and more than 100 heads of state will be attending. Its aims are to educate the world about the dangers of climate change and finding solutions to the problem.
Young people
Young people at the Water Summit all agreed that they had an important role to play and that it was up to them to help reverse the damage caused by global warming. They made a commitment to take action and to encourage others to take better care of the environment.
Water Affairs Deputy Minister Rejoice Mabudafhasi said that water shortages and climate change were among the greatest challenges to South Africa's development. The problem had been worsened by unreliable rainfall and the needs of agriculture and industries.
Alien tree and plant species, which have a great impact on water shortage is also making the problem worse. The result is that some municipalities have been forced to restrict water use.
Vision 2020
"We started the youth summit as part of our Vision 2020, with the knowledge that if we don't do something now and educate the youth about the importance of protecting water and the environment, we may be in trouble ... We want to instil that knowledge in them that water is important in their lives," said Mabudafhasi.
 As part of Vision 2020, 281 computers have been distributed to schools in Limpopo, North West, Eastern Cape, KwaZulu-Natal, Northern Cape and Mpumalanga to help learners understand the importance of science and climate.
DID YOU KNOW?
COP 17 is the 17th Conference of Parties of the United Nations Framework Convention on Climate Change. It is one of the world's largest conferences and will take place in Durban from 28 November to 8 December this year. More than 30 000 people are expected to attend, making it the largest event ever hosted in a South African city.  The Durban KwaZulu-Natal Convention Bureau has estimated that the economic benefits for Durban will be enormous and rough estimates regarding money spent by delegates could be more than R300 million.
For more information, call the
Department of Environmental Affairs on 086 111 2468 or 012 310 3911