Presidential Hotline
The Presidential Hotline is a government service that is offered free of charge to everyone who uses it. But callers are reminded that the hotline and public liaison service does not replace the existing hotlines and public liaison facilities of departments, provinces or municipalities. It is intended to be used as a last resort when other systems have failed.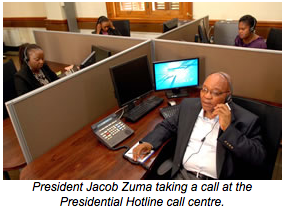 A sixteen-year old Pretoria learner is full of praise for the Presidential Hotline, which made it possible for him to represent South Africa in the World Rowing Championships in England this month.
Realising his dream
Katlego Sotsaka's mother Maite Sotsaka contacted the Presidential Hotline complaining about the service at the Pretorius Street branch of the Department of Home Affairs.
She applied there for an identity document (ID) for her son, but was told that she would have to wait for three weeks to apply for a temporary ID since her son's fingerprints would only be available on the system by then.
After three weeks, she was told that the fingerprints were not yet on the system. On receiving her complaint, the Presidential Hotline staff contacted the Home Affairs Public Liaison Officer about the matter.
Within 24 hours Katlego received his temporary ID. He eventually got his passport and a visa and realised his dream to go to England to represent his country in the World Rowing Championships.
Lighting up
In another success story, the involvement of the Presidential Hotline resulted in providing electricity at the house of a Mahikeng resident in May this year after more than two years without electricity.
In February this year, Mr Gabriel Zubane wrote a letter to the Presidential Hotline complaining that his house had no electricity while his neighbour's did. Zubane had applied for electricity at the local Eskom office in 2009 and by February 2011, he had heard nothing from them.
The matter was referred to Mr Johannes Mokobane at the Department of Energy for investigation. It was later discovered that the process was delayed because Mr Zubane was given electricity which was not suitable for a household. The problem was never addressed and he was not informed. He decided to contact the Presidential Hotline.
He was advised to reapply for electricity and did so on 20 May 2011. A week later, Eskom brought material to his house, but it was too late for them to work at the house and he was told they would come back later, but after a week they had not returned.
Zubane informed the Presidency of the situation. To Zubane's great relief his house was electrified two weeks later thanks to the Hotline's intervention.
Birth certificate
The Hotline also came to the rescue of Dudu Mgobhozi from KwaZulu-Natal, who tried for three years to get a birth certificate for her daughter without luck.
In 2008, she delivered her baby at a clinic in eSikhawini outside Empangeni in KwaZulu-Natal North. However, she gave the nursing staff her nickname instead of the name on her ID. This caused a problem when she applied for a birth certificate for the child at the Richards Bay branch of Home Affairs since the names did not match. Home Affairs staff advised her to take the form to the Clinic to confirm that it was her child.
Over a period of three years she could not get the nurses to fill in and stamp the forms. Mgobhozi contacted the Hotline to help her apply for her daughter's certificate. Staff at the clinic where she gave birth refused to fill in a Home Affairs form that would have enabled her to apply for a birth certificate.
After the Presidential Hotline's intervention through the Office of the Premier in KwaZulu-Natal, the matron at the eSikhawini Clinic completed and stamped the form enabling Mgobhozi to apply for her daughter's birth certificate.
Compensation for her loss
The Presidential Hotline does not only solve problems relating to government departments, but has also helped customers of state-owned companies such as the national airline, South African Airways (SAA).
Ms Naziemah Lesch whose handbag went missing about five years ago while flying with SAA contacted the Presidential Hotline when she received no help or compensation from the airline. Lesch filed a complaint with SAA in 2006, but until this year she was still waiting for a response from them.
The Presidential Hotline contacted the Luggage Department at the Cape Town International Airport. After discussions between the two parties, Lesch was paid for her loss. She had been struggling to resolve the matter for almost three years.
The Hotline not only solves problems relating to government departments, but has also helped customers of state-owned companies such as the national airline, South African Airways.
Disability
Another problem solved involves a Western Cape man, Mr Moosa Essop, who had retired because of ill health from injuries he sustained on duty. Thanks to intervention from the Hotline his disability grant was paid to him again after it had been cancelled for eight years.
Mr Essop was receiving a disability grant from the South African Social Security Agency (SASSA), but this was cancelled when he applied for compensation funds for his injuries.
Essop depends on monthly medication. In addition to being disabled and unemployed his family depend on him and had been waiting to be compensated for the past eight years. After eight years of trying to get help from the Labour Department, he decided to contact the Presidential Hotline.
The Hotline contacted the SASSA office in Belville, which then interviewed Essop as a requirement for his a disability application. The interview was successful and it was decided that a once- off cheque payment, would be given to Essop to assist him in the interim, and it was delivered to his home. This is making life much easier for Essop and his wife who were emotionally moved by the help they received from the Presidential Hotline.
Wheels are rolling agains
Another Presidential Hotline success story involves a disabled man from Belhar in the Western Cape, Mr Collin Diedericks, who was struggling to replace his broken wheelchair. He informed the councillor of his ward about his struggle, but his efforts were in vain. When he heard that a Presidential Hotline had been launched in September 2009, he immediately decided to turn to the President for help.
Thanks to intervention from the hotline, a team from the Western Cape Department of Social Development visited Diederick to assess his situation. They found that he was using a wheelchair belonging to a day-hospital in Belhar.
When the Department of Social Development received a donation of equipment for disabled people from the Taiwanese government, Diedericks met the criteria and he received a new wheelchair.
Presidential Hotline number:
17737 (1 PRES)
Fax: 086 681 0987 or 012 323 8246
email:
president@po.gov.za