The EPWP is a flagship programme of the Department of Public Works. It is a means of creating a better life for all people and a better future for the youth.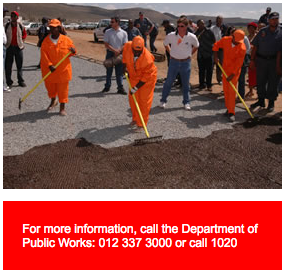 The Expanded Public Works Programme (EPWP) is playing a central role in job creation and economic development. Results show that the EPWP has created 643 116 work opportunities, which confirms that the programme is well on its way to achieving its set target of 642 000 work opportunities for this year.
EPWP acting Deputy Director General Ignatius Ariyo said the performance of the programme indicates that the EPWP is on track to meet the target of 4,5 million work opportunities by March 2014.
Primary driver
"The EPWP is a primary driver of job creation within the machinery of government and I have expressed my confidence and conviction in the ability of the department to help combat joblessness and push back the frontiers of poverty within a short period of time," said Public Works Minister Gwen Mahlangu-Nkabinde.
Infrastructure sector
Ariyo said the infrastructure sector continued to contribute the largest number of work opportunities, with a total of 277 100 people employed in the this sector.
He said KwaZulu-Natal had the largest number of work opportunities, but the bulk of the jobs were created in the infrastructure sector. The province is closely followed by the Eastern Cape and Gauteng. More work still needs to be done in the Free State, Northern Cape, North West and Mpumalanga in terms of meeting the targets.