Written by Mduduzi Tshabangu
 Know your Deputy Minister
Born in May 1943, Ms Rejoice Mabudafhasi was appointed Deputy Minister of Water and Environmental Affairs in May 2009.  Prior to that, she had been a Deputy Minister of Environmental Affairs and Tourism between 1999 and 2009.  In 1985 and 1986 she was a founder member and National Organiser of the National Education Co-ordination Committee (NECC). From 1992 to 1994 she was a National Treasurer of the National Education Health and Allied Union (NEHAWU), an affiliate of Cosatu.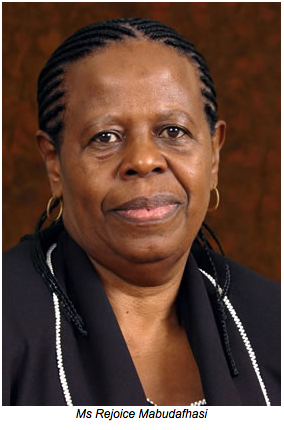 Ms Mabudafhasi is chairperson of the African Process for the Development and Protection of the Marine and Coastal Environment. She is also Chairperson of the Mvula Trust Board and a member of the Global Programme of Action (GPA). She is a member of the International Committee on Business Partners for Development for Water and Sanitation. She has been co-chair of the Global Network of Women Ministers and Leaders of Environment since 2004. She has been a member of the National Executive Council (NEC) of the African National Congress (ANC) since December 2007.
From 1962 to 1963, she was a teacher at Tshilidzi School, Soweto and in 1965, she was appointed a librarian at the University of the North. From 1983 to 1986, she served as a secretary for United Democratic Front in the then Northern Transvaal (UDF).