The KwaZulu-Natal yellow maize public-private partnership will see many farmers in KwaZulu-Natal selling at least 5 000 tonnes of yellow maize a year to South African Breweries-Millers (SABMiller.)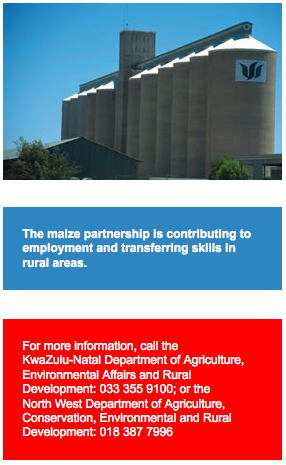 This follows an agreement between SABMiller and the KwaZulu-Natal Department of Agriculture, Environment and Rural Development in October last year.
The agreement involves communities from Bergville, Mbabazane and Indaka for the production of yellow maize grown without pesticides and chemicals. The first crop from the agreement is due to be harvested this year.
Boost for emerging farmers
The SAB market is a major boost for emerging black farmers with many subsistence farmers set to benefit from this partnership.
Before the signing of the public-private partnership agreement, most subsistence maize farmers in KwaZulu-Natal struggled to find markets for their produce.
SABMiller will buy 5 000 tonnes in the first year of the project and the quantity will increase over time. At least 1 500 hectares of good farming land has been identified in Bergville and Umtshezi near Estcourt in the KwaZulu-Natal Midlands.
Beyond KZN
SABMiller's partnership with KZN builds on a number of projects involving other provinces.
The beer company has also been involved with a group of barley farmers in the Taung area of the North West province for the past 16 years. Called the Taung Barley Farmers Project, this partnership was recognised as the African Agricultural Commodities Initiative of the Year during the inaugural Africa Investor Agribusiness Investment Awards last year.
North West
The Taung Barley Farmers Scheme on the border between the North West province and the Northern Cape was launched by SABMiller in 1994 to encourage enterprise development.
The project is managed by SABMiller in partnership with the North West Department of Agriculture, Conservation, Environment and Rural Development and the local tribal authority.
It consists of about 1 500 hectares of land and helps around 150 emerging farmers generate an income from barley and maize in the area.
Guaranteed market
SABMiller provides funds to grow the crops, as well as a guaranteed market. They also provide agricultural extension services to ensure good quality crops. 
Through a partnership with GrainSA, a voluntary association of grain farmers, the project is able to provide skills that empower farmers to work independently on an ongoing basis.