In line with government's New Growth Path, Transnet is going all out to create more jobs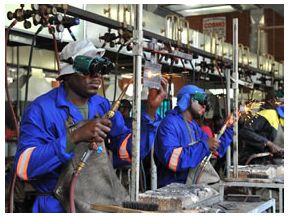 Transnet, the company behind South Africa's national transport businesses such as ports, Metrorail and South African Airways, is getting the wheels rolling to create over 5 000 jobs in the next five years.
The company employs 55 519 people and it predicts that the number will increase to 61 520 by 2016.
New Growth Path
The increase in the number of jobs at Transnet is linked to government's New Growth Path (NGP). The NGP is a jobs campaign aimed at creating about five million job opportunities by 2020 and reducing the unemployment rate to 15 percent. The NGP has six priority areas namely: infrastructure development, agriculture, mining and beneficiation, manufacturing, the green economy and tourism.
200 000 jobs by 2016
Transnet's chief executive, Brian Molefe, said the company aimed to create a total of over 200 000 jobs directly and indirectly by 2016. He said this would be done through their projects, which focused on technical and functional skills, making up 76 percent of all the training at Transnet's six technical schools. At the company's port terminals school, it planned to train 4 205 learners in the next five years, while 2 637 others would be trained at the ports. At the rail schools, the company aimed to train nearly 7 000 students by 2016, as well as training more than 7 500 in rail engineering.
Transnet is currently taking 500 apprentices a year and hopes to increase this number to 1 000 next year.
For more information, call Transnet's toll-free number: 0800 003 056
Artistic boost for economic development
South Africa's creative industries are set to become more important in helping the country fight unemployment.
Arts and Culture Director-General Sibusiso Xaba said one way of boosting job creation was to look at issues which affect job creation in the arts and to upgrade the status of people working in the arts sector.
Xaba addressed delegates at the International Conference on Arts, Society and Sustainable Development at the Tshwane University of Technology (TUT) recently. The aim was to bring together scholars from Africa and abroad to debate arts and culture as a tool to economic development.
He pointed out that it was important for people working in the arts to have formal education and qualifications. Starting the National Skills Academy for the Arts later this year is part of government's efforts to uplift the status of people working in the arts, culture and heritage sector.
TUT Executive Dean of Arts Prof Mzo Sirayi said, "Many people still see arts as an optional extra, but not central to the challenges facing the economy, public service and society as a whole... History has demonstrated that when cities, towns and villages disintegrate and degenerate, like many cities and towns in Africa, the solution should be sought in the sphere of arts and culture."  
For more information, call the Department of Arts and Culture 012 441 3000