The Gauteng region of the Department of Water Affairs is joining hands with the Gauteng-based Rand Water Foundation to fight unemployment and develop skills. They are not only providing clean water to communities in five Gauteng local municipalities, but have created jobs for young unemployed graduates.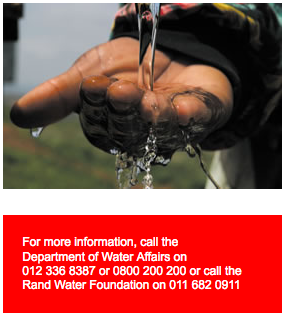 Called Sebenza Nathi (isiZulu for Work with Us), the project has helped to close the skills shortage in five municipalities. In addition, it has helped with the hiring of qualified engineering, water and science graduates who have been placed on long-term internship programmes within these municipalities.
Internships
Currently, 23 unemployed graduates, including nine women, are employed in five municipalities as water treatment plant technicians.
The Rand Water Foundation entered into an agreement with the five municipalities binding them to hiring the interns permanently on completion of their internships.
The five municipalities are Midvaal Local Municipality in Meyerton, the Randfontein Local Municipality, the Lesedi Local Municipality, the Merafong Local Municipality and the Emfuleni Local Municipality.
The Vaal University of Technology is providing specialised training to the interns who already have qualifications in different water, science and engineering fields.
Funding
The Rand Water Foundation has made available R1,8 million in funding. The money covers monthly allowances paid to the interns, handbooks, protective clothing worn during training and study fees to the Vaal University of Technology to train the interns on waste water works management.
The interns are also trained in how the local government and water sector work, operational planning, municipal finance and budgeting and will complete a refresher course on water and sanitation.
According to the Water Affairs Department's Thami Mnguni, the Sebenza Nathi project forms part of a broader community empowerment programme in the department. The total budget for the Community Empowerment Programme in Gauteng is R400 million, Mnguni said.
There are three other programmes within the Community Empowerment Programme.  These are:
The War on Leaks Programme, which addresses water losses resulting from leaks. About R100 million has been made available for the project.
A skills development programme which received R80 million, provides training in water-related fields.
Adopt a River, a community-based environment initiative targeting women and youth to clean rivers in their communities. 
The Department of Water Affairs works with other partners including local municipalities, provincial governments, Rand Water Foundation, Sector Education and Training Authorities (Setas) and non-governmental organisations in carrying out these community programmes.