Events and advice
The Consumer Protection Act (CPA) has been in operation since 1 April, aimed at promoting fairness, openness and good business practice between suppliers of goods or services and the people who buy such goods and services.
Contracts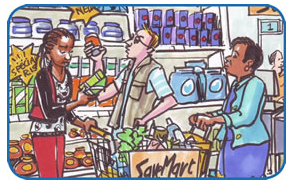 The Act only applies to contracts signed after 1 April, and won't affect anything signed before then.
Regarding agreements and bookings, consumers will be pleased to know that they are now allowed to cancel an agreement or a booking under certain conditions.
Another important benefit of the Act is that a consumer can get a refund for a faulty item without having to prove that the item was not working properly at the time he or she bought it.
Goods covered by the Act:
consumables (food, clothing etc)
other goods that can't be consumed but can still be used and enjoyed by a consumer, like toys and appliances
content and entertainment products (books, music, movies, games, information products, software), including the licences to use those products
a legal interest in fixed property
gas, water and electricity.
Services covered by the Act:
building, renovation and/or repair services
education, information, advice or consultative services (doctors, lawyers, training companies, universities etc.)
banking and insurance services not regulated under the Financial Advisory and Intermediary Services Act (FAIS Act), Long Term and Short Term Insurance Acts
transportation services (tour buses, taxis, lift clubs)
accommodation and hospitality services (hotels, B&Bs, restaurants)
entertainment services (cinemas, theatres, fun parks, casinos)
electronic communication access services (cellphone, internet, email)
rental services (suit hire, home rentals, car hire)
franchise services.
Services not covered:
Estate agents: According to the National Consumer Commission Deputy Commissioner Ebrahim Mahomed, estate agents do not fall under the CPA since they are governed by the Estate Agency Affairs Act.
Property Lease Agreements: These are governed by the Rental Housing Tribunal Act.
Insurers: Long-term and short-term insurance have been excluded from the CPA until October 2012 when the Long and Short-Term Insurance Acts would have been brought into line with the CPA.
Who is a consumer?
A consumer is any individual, small business (with annual profit below R3 million), club or association to whom goods or services are marketed and sold and any end users of those goods and services. For example, everyone who buys groceries, clothes and households goods is a consumer
For more information, call the
National Consumer Commission on: 0860 266 786 or
send a fax to 0861 515 259 or
an email to
ncc@thedti.gov.za