Connecting jobless with employers
Stephen Timm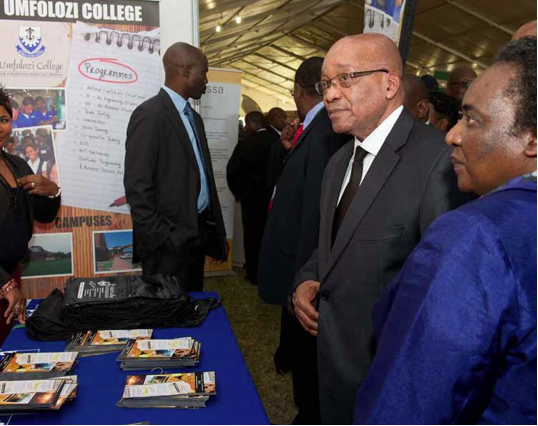 Photo caption: After officially opening the Richards Bay Jobs Fair, President Jacob Zuma, accompanied by Labour Minister Nelisiwe Mildred Oliphant, interacts with representatives from various employers and tertiary institutions.
With a number of large infastructure projects under way, people looking for work will have the chance in the next few months to connect with employers – from companies and state entities – at jobs fairs around the country.
The fairs are being hosted by the Department of Labour alongside job summits to put work-seekers in touch with prospective employers. Those attending will also be able to register their details on Labour's electronic database – Employment System SA (Essa) – which can help match work seekers with vacancies.
So far two jobs fairs have been held – in East London in May and in Richards Bay in July. Fairs will also be held in Rustenburg on 3 August, in the Northern Cape on 10 August, Mpumalanga on 17 August, Limpopo on 31 August and Gauteng on 14 September. The Department of Labour is still finalising venues and locations as well as dates for fairs in the Free State and Western Cape.
The department's Deputy Director-General of Public Employment Services, Sam Morotoba, said the two fairs held so far had attracted thousands of job seekers.
In East London about 6 000 visitors and 700 representatives of employers attended over two days, while the Richards Bay fair, which took place on 5 and 6 July, attracted almost 12 000 visitors and about 800 representatives from state-owned enterprises, as well as big and medium-sized companies taking part.
The jobs fairs will offer work seekers soft skills, information and a face-to-face search for placement opportunities be they further learning, self-employment, co-operatives, community works or public works programmes and formal employment.
They will run alongside exhibitions, which offer attendees an opportunity to interact with various government departments, prospective employers, enterprise development organisations and a host of others.
Morotoba said at the fairs, employers and human-resource representatives would also brief job seekers about major infrastructure projects that are planned for the area and the skills required for these projects.
Ministers and officials from various departments are also on hand at fairs to deal with any blockages that employers are facing and that may delay certain projects and the hiring of new employees.
The department plans to register at least 600 000 job seekers on the database by March next year. It also wants to ensure that at least 450 000 work seekers are placed in opportunities or provided with other services from the department such as career guidance, within 30 days of registration.
Career guidance
Morotoba said applicants had the option of either registering on the database themselves
– by visiting www.labour.gov.za – or queueing at jobs fairs. Those who register on the database will have a reference number sent to their cellphone.
He said a number of work seekers had al- ready been placed with several companies, including with BHP Billiton and Transnet and with contractors on the Medupi power project. Others have been placed in temporary work with the Independent Electoral Commission and Census 2011.
A major challenge, said Morotoba, was that only about 40 per cent of those registered on the site had matric. However, there were options for those who didn't have matric – including finding temporary work through the Expanded Public Works Programme (EPWP) or Community Works Programme.
He said the department was encouraging employers to use its database – pointing out that the database was free to use and reduced the time spent on recruitment by companies. Some companies had been able to source 80 per cent to 90 per cent of the workers they needed for a certain project by using the database.
By using the database employers can also be sure that employees will be registered for the various requirements under labour law – such as the Unemployment Insurance Fund.
National Skills Accord
Addressing the Richards Bay jobs fair, President Jacob Zuma said solutions to the jobs crisis would not come from government alone and that government, business, labour and society at large must join forces – in initiatives such as jobs fairs.
He said government  wanted  to  support youth employment through improving the competitiveness of the economy by boosting small and medium businesses, expanding temporary public employment programmes such as the EPWP and by creating 20 000 learnerships per year.
President Zuma said government had also signed a National Skills Accord with all the social partners. It provides business and state- owned enterprises with clear numerical targets to increase the number of apprenticeships and take on learners and interns for practical workplace experience.
He added that the establishment of two new universities in Mpumalanga and the Northern Cape respectively would also boost access to higher education considerably.
For more information, call the Department of Labour: 012 309 4000