Health
Interns help heal the health system
Gabi Khumalo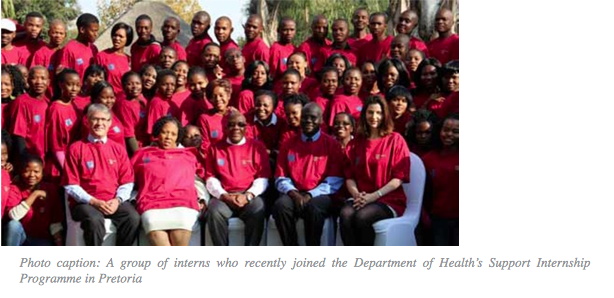 Like many young graduates, Kgopotso Shayi from Bushbuckridge in Mpuma- langa struggled to fi a job even though she holds a certificate in Management
and Technology.
Shayi, who applied for jobs ever since she graduated in 2009, started thinking she would never get an opportunity to use her skills.
"At one point I sent an application to one of the local shops, but they told me I was over-qualified. People who didn't further their studies after Grade 12 were laughing at me asking what was the point of studying if I went back home and did nothing," said 27-year-old Shayi. This motivated her to prove to those who laughed that perseverance would eventually pay off.
An advert by the Department of Health posted in December last year caught her attention. It called for unemployed graduates with qualifications in finance, commerce, accounting, human resources and information communication technology, to do internships at health facilities. "I didn't waste time to send my application. I was then shortlisted and called for an interview, which went well, so now things are looking up for me."
Provincial offices
Shayi is among 400 interns who came from all over the country to Pretoria to join the department's Support Internship Programme. They were divided into three groups and deployed to the department's provincial offices, where they are helping the department to improve the healthcare system and to get a clean audit this financial year.
Launching the Support Internship Programme, Health Minister Dr Aaron Motsoaledi said most of the challenges provinces encountered were in the areas of fi management, procurement and human resources.
The interns have been selected to provide additional assistance in the areas of asset management, revenue collection, supply chain management, PERSAL clean-up and information management, among others.
Capacity building
In June, the department recruited 70 unemployed graduates with degrees and honours degrees in chemistry and chemical engineering to help in forensic toxicology*, where there is a backlog.
"All interns have undergone a capacity building programme for a one-month period.
The aim was to skill them further prior to their deployment to the various provinces," Motsoaledi explained.
The areas identified as key to their development include an understanding of how the public service operates; financial management in the public sector; the use of human resource information in planning, and the district health information system.
The department plans to assign 15 interns per category to each province for a year. They will get a stipend of R3 500 per month.
R84 million has been allocated for the programme, which will also include accommodation and transport.
"I will work hard and try to learn more about the department. Hopefully, my presence and skills will bring change and help improve the health system," Shayi said.
* Forensic toxicology is the application of toxicology for the purpose of law. Toxicology is the study of substances, such as poisons, that are harmful to human beings. Toxicologists have the responsibility of finding and identifying the presence of drugs and poisons in fluids, tissues and organs.
For more information contact the Department of Health: 012 395 8000