Rural development
Heart-warming switch-on for Godidi village
Chris Bathembu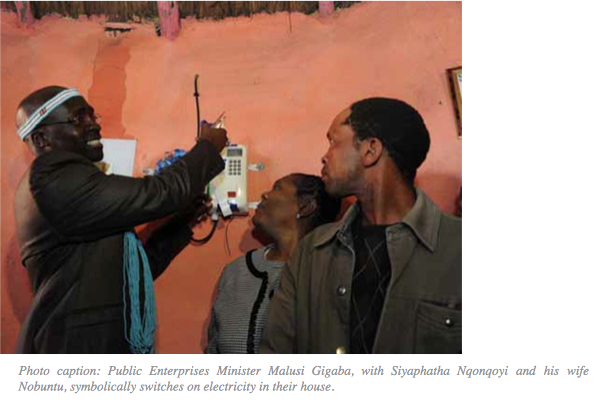 It was a heart-warming moment for residents of a small Eastern Cape village when they could enjoy the benefits of electricity for the first time. Government officials and power utility Eskom switched on a new electricity substation at Godidi village, outside Butterworth, signalling an end to unsafe paraffin stoves and candles.
The landmark moment also marked the switching on of lights to the four millionth electrified home in South Africa since 1991. "Our goal is to achieve universal access by 2020; there should be no home in South Africa that does not have electricity," said Eskom CEO Brian Dames.
"Eskom is a state-owned company and we have a clear purpose and that is to provide electricity to the rest of South Africa so that our economy can thrive and to improve the quality of life for our people," Dames said.
He added that what Eskom had done for the residents of Godidi was a commitment "to reach even the most remote parts of our country".
"What we are hoping now is that this community can appreciate and realise the advantages of having electricity. We've now done four million households and our plan is to have everyone electrified by 2020," said Dames.
Significant achievement
Public Enterprises Minister Malusi Gigaba led a crowd of about 500 villagers in a joyous moment of history as he switched on the lights at the home of 36-year-old Nobuntu Nqonqoyi, mother to an eight-month-old baby.
He said having four million households connected to the national grid was a milestone for a country that was celebrating 18 years of democracy. "It's a significant achievement … the job is not done yet; we have a mammoth responsibility to connect all South Africans," Gigaba said.
He urged the new electricity recipients to conserve energy reminding them that wasting energy would not only affect them but the entire country. "Do not just indulge in this newly found gold, remember you pay for electricity, so don't waste it because if you waste it you will also affect other South Africans who depend on the national grid."
Local residents said the lack of electricity had long been an obstacle for education and economic opportunities, which led to poverty and unemployment. They hoped that the provision of electricity would improve their quality of life and bring about new economic opportunities.
"I can't explain the joy I'm feeling. I've just had a baby and you can imagine the struggle of not having electricity. It's winter and the baby requires a warm bath and a warm bottle all the time so my life will be much easier," Nqonqoyi said.
She told Gigaba that even though she was still "scared" of electricity; her family was excited at the idea. "I am nervous because I've never been exposed to electricity before, but I will get used to the idea and I'm very excited." For 72-year-old Nolusapho Jaji, having electricity meant owning a television set. "We used to have TV when I was staying in Mthatha, but when we came here it meant that we had to use a battery and that did not work for long, so I'm excited beyond words."
Business growth
Shop owner Sgidi Mankazana said his business would soon be booming. "I can now keep my shop open until late because without electricity I would close very early - as soon it became dark because I was scared I might fall victim to criminals," he said. He will also be able to sell electricity to the locals and this means growth for his business.
Authorities say for the initial phase of the programme, 500 households have been electrified but the substation has the capacity to accommodate 10 000 more customers.
"It's an ongoing programme, it doesn't stop here; our target is to have 894 new megawatts this year and the number is expected to be doubled in the next financial year, so we are busy," said Minister Gigaba.
For more information or to report power failures, call Eskom's sharecall number: 08600ESKO M (0860037566)